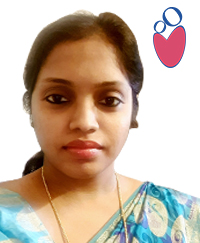 Consultant - Obstetrician & Gynaecologist
DEPARTMENTPregnancy Care/ Obstetrics, Visiting Consultants
UNITBangalore, Indiranagar
Overview
Dr Priya Vardhini comes with 7 years of experience in the field of obstetrics and gynaecology. She is known for practicing Evidence based Medicine, aims for Normal Vaginal deliveries. Her interests also lies in treating gynaecological conditions like Prolapse, Heavy Menstrual Bleeding, Menopausal symptoms, PCOS, Endometriosis, Contraceptive counselling. Focuses on Adolescent health and Perinatal Mental health.
Education
MBBS from Dr B R Ambedkar Medical College, Bangalore in 2009
Postgraduate training completed from St. Philomena's Hospital, Bangalore in 2016
Passed MRCOG, Prestigious Obs & Gynae Postgraduate qualification from the UK, Royal College of Obstetricians and Gynaecologists in 2019.