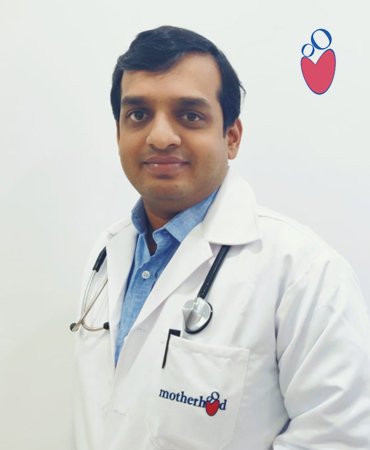 MBBS, FIPM( NEONATOLOGY), MD
Consultant - Paediatrician and Neonatologist
UNITBanashankari, Bangalore, Kanakpura Road Clinic
LANGUAGEEnglish, Kannada, Hindi
Working Time11am to 1.30pm
Qualification DetailsMBBS, MD, (Neonatology)
Overview
Reputed and well trained clinician in intensive care neonatology with a decade long experience!
Dr. Santosh Kumar K is a Consultant Neonatologist and Pediatrician, having an experience of 8 years working in some of the best Neonatal and Pediatric care hospitals in South India. Currently working at MOTHERHOOD HOSPITALS, Banashankari. Before moving to Motherhood Hospital, he had a two-year stint at exclusive Children's Hospital, Bangalore.
He obtained his MD Pediatrics from the Kempegowda Institute of Medical Sciences, Bangalore. He has gained extensive training in Neonatology in last 4 years, with the Fellowship in Neonatology from Indian Academy of Pediatrics.
He did his Fellowship from the prestigious Sri Ramachandra University, Chennai (2015), a 60 bedded level 3B unit in the country. He is one of the National Instructors for Advanced NRP and has got Accreditation in BAYLEY and DASSI scale for Development assessment.
Dr Santosh Kumar is well trained with Intensive care Neonatology including advanced ventilation strategies like High Frequency ventilation, neonatal cooling, Neonatal Resuscitation, preterm Nutrition, management of extreme premature and low birth weight neonates starting from 24 weeks. He is trained and certified in functional Neurosonogram and echocardiography.
His special area of interest lies in Neonatal Cooling, neonatal transport, preterm nutrition, training junior doctors and nurses. He is passionate about neonatal care and is well in all areas of pediatrics. He has to his credit four Original research articles and two case reports published in international Journals, four poster presentations at various national conferences and presented papers at NNF Forums.