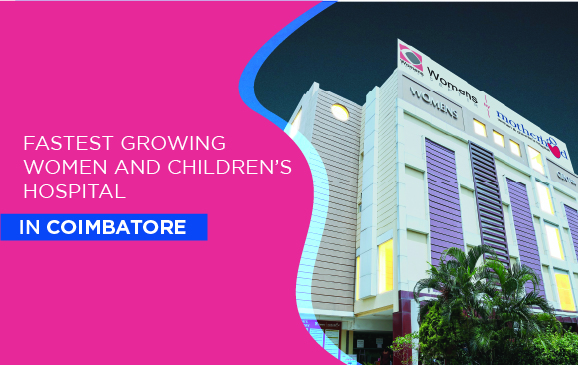 146-B, Mettupalayam Road, Coimbatore, Tamil Nadu 641 043
Phone: 8494800099
---
Open hours:
Consultations: 9 am to 6 pm
Emergency: 24/7
Labs: 24/7
Test Reports: 4 pm to 8 pm

Personalised Care for Women and Children
Best Women and Child Care Hospital in Coimbatore
Women's Centre by Motherhood Hospital, Coimbatore
Women's Centre by Motherhood Hospital, Coimbatore is one of the Best Delivery hospitals in Coimbatore. Spread across 10 cities, Motherhood Hospital has 22 operational hospitals.
Motherhood Hospital has been successful in becoming the Best Pregnancy Hospital in Coimbatore by providing attentive and compassionate care to women, aspiring mothers and children since 2010. We are best at providing premium care to all our patients with the best-in-class medical tools, state-of-the-art equipment and latest technology and shall continue our legacy for the future.
We are equipped with the best and the most experienced doctors including the Best Obstetrician & Gynaecologist in Coimbatore. Women's Centre by Motherhood Hospital, Coimbatore has medical experts in the field of Pregnancy Care, Gynaecology and Laparoscopic Surgery, Fertility, Paediatrics, Neonatology, and Fetal Medicine, General Surgery, Internal Medicine, Cosmetology, Nutrition, Radiology, and Physiotherapy.
We also have a Neonatal Intensive Care Unit (NICU) that offers high-intensity neonatal care 24/7; our team of highly qualified neonatologists ensure that our state-of-the-art Level III NICU prepares your little bundle of joy to take on the world in its full capacity. We are proud to have the best Pregnancy care hospital in Coimbatore.
We have the best-known Motherhood hospital delivery packages in Coimbatore and we offer expecting mothers priority care in a homely environment in our comfortable suites built to cater for their needs. Our team is dedicated to holding their hand throughout the pregnancy journey.
Women's Centre by Motherhood Hospital, Coimbatore has adult ICUs, operative rooms, laboratory services, and a 24/7 pharmacy along with highly advanced ultrasonography machines that help our fetal medicine specialists in scanning for fetal anomalies of any degree.
The services offered at Women's Centre by Motherhood Hospital, Coimbatore are-
Advanced Laparoscopic Gynaecology Surgery
Pregnancy & Obstetrics
Fertility/IVF/IUI
General Surgery for Women
Breast Health/Mamogram
Level 3 Neonatal Intensive Care (NICU)
Pediatric High Dependency Unit
Pediatrics
Radiology and Foetal medicine

Physiotherapy and Lamaze

24/7 Pharmacy
24/7 Laboratory
Imaging/Ultrasound
Round – the – clock Gynaecologists & Paediatricians
We also extend home services like Video Consultations, Home Vaccinations, Flu Vaccinations and Paediatric COVID-19 home care services.
You can get your Motherhood appointment in Coimbatore today. Book online appointments with our experts and specialists at Motherhood Hospital Coimbatore.
Meet the expert specialists that deliver the very best obstetrical, gynaecological, fertility, neonatal, and paediatric care to you. Find one nearest to you and book an appointment now
ESTEEMED CORPORATE CLIENTS












Empanelled Insurance companies
✦United Health Care Parekh Insurance TPA Private Limited/
✦HDFC ERGO Health Insurance Limited
✦The New India Assurance Co. Ltd
✦Ericson Insurance TPA Private Limited
✦Medi Assist Insurance TPA Private Limited
✦United Health Care Parekh Insurance TPA Private Limited
Packages in Coimbatore, Motherhood Hospital
Best Maternity Hospital in Coimbatore, Best Gynaecologist in Coimbatore, Best Women and Children Hospital in Coimbatore, Best Maternity Hospital near me, Best Paediatricians near me, Best Gynaecologist near me, Motherhood Appointment, Motherhood Appointment in Coimbatore, Motherhood Coimbatore Appointment