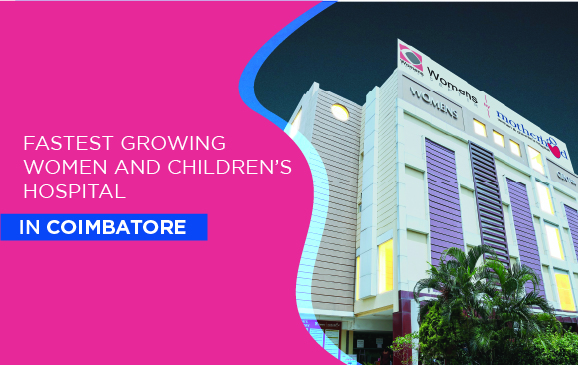 146-B, Mettupalayam Road,
Raju Nagar, Kuppakonam Pudur,
Coimbatore, Tamil Nadu 641 043

Phone: 080 6723 8877 /
1800 108 8008


---

Open hours:
Consultations: 9 am to 6 pm
Emergency: 24/7
Labs: 7 am to 6 pm
Test Reports: 4 pm to 8 pm

Personalised Care for Women and Children
Best Women and Child Care Hospital in Coimbatore.
Motherhood Hospital, Coimbatore is a premium, comprehensive women and childcare centre that seeks to provide its customers with a holistic service that addresses all of their concerns.
Our specialised team and advanced technology guarantee treatment of the highest quality, and include facilities that further aid our experts in treating you in an advanced, comfortable, and safe environment.
Book an appointment with our top maternity/child care specialists in Coimbatore
Services Offered at Motherhood Hospital, Coimbatore
Motherhood Hospital takes pride in the highly skilled and experienced medical specialists who cater to patients in gynaecology, neonatal, paediatric & maternal ICUs. We are one of the leading hospitals for maternity and childbirth and have marked footprints across various cities in India.
Motherhood Hospital, Kuppakonam Pudur offers an array of services apart from pregnancy and maternity care. The center is equipped with the latest infrastructure and advanced medical technologies.
IUI, IVF, ICSI, Donor Programmes, Pre-implantation Genetic Testing
Gynaecology
High-risk Pregnancies (Monitoring and Delivery)
Outpatient Services and Consultations with Senior Gynaecologists
Cancer Screening — Colposcopy, Mammogram, etc.
IUI and Fertility Centre
Preventive Gynaecology – BMD, Weight-loss and Wellness Programmes
MRI, 3D Ultrasound, Doppler Studies
3D Laparoscopic Surgeries for Major Gynaecological Conditions
Hysteroscopic Surgeries
Oncology Surgeries
Neonatal Care (NICU)
Paediatrics
Dental Service
Lifestyle Service
Our Facility
2 Modular Operation Theatres
Dedicated IVF Operation Theatre
Dedicated Operation Theatre for C Section
16 Consultations Suites
Level 3 NICU
Adult ICU
Ultrasound Scan Rooms
Echo Cardiology and Cardiac Assessment
Medical Library
Mr Image-guided Ultrasound Treatment
Fitness Centre and Gym
Meet the expert specialists that deliver the very best obstetrical, gynaecological, fertility, neonatal, and paediatric care to you. Find one nearest to you and book an appointment now
ESTEEMED CORPORATE CLIENTS












Empanelled Insurance companies
✦United Health Care Parekh Insurance TPA Private Limited/
✦HDFC ERGO Health Insurance Limited
✦The New India Assurance Co. Ltd
✦Ericson Insurance TPA Private Limited
✦Medi Assist Insurance TPA Private Limited
✦United Health Care Parekh Insurance TPA Private Limited
Packages in Coimbatore, Motherhood Hospital
Best Maternity Hospital in Coimbatore, Best Gynaecologist in Coimbatore, Best Women and Children Hospital in Coimbatore, Best Maternity Hospital near me, Best Paediatricians near me, Best Gynaecologist near me