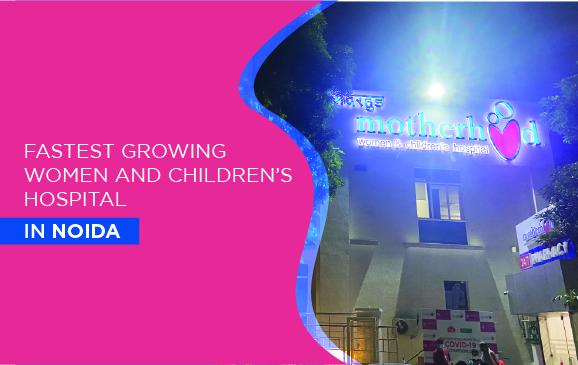 B-206 A, Block B sector 48,
Noida, Uttar Pradesh 201 301

Phone: 080 6723 8899 /
1800 108 8008


---

Open hours:
Consultations : 9am to 7pm
24/7 Pharmacy
Labs: 7 am to 6 pm
Test Report: 4 pm to 8 pm


Personalised Care for Women and Children
Best Pregnancy Care Hospital in Noida
Our only centre of its kind in NCR, Motherhood Hospitals in Noida provides excellent care to women and children at all stages of their lives. We not only serve as a maternity centre, but also provide for any sort of gynaecological, neonatal, or paediatric issue.
Our services also go further beyond these highlights to offer our customers with much more. With state-of-the-art facilities, advanced technology, and an experienced staff, our customers are guaranteed to have an experience that is as efficient as it is homely.
Book an appointment with our top maternity/child care specialists in Noida
Services Offered at Motherhood Hospital, Noida
Motherhood Hospital takes pride in the highly skilled and experienced medical specialists who cater to patients in gynaecology, neonatal, paediatric & maternal ICUs. We are one of the leading hospitals for maternity and childbirth and have marked footprints across various cities in India.
Motherhood Hospital, Noida offers an array of services apart from pregnancy and maternity care. The center is equipped with the latest infrastructure and advanced medical technologies.
Pregnancy
Gynaecology
Paediatrics
Advanced Laparoscopic Gynaecology Surgery
General Surgery for Women
Neonatology & Pediatrics
24/7 Pharmacy
24/7 Laboratory
Round the clock Gynaecologist & Paediatricians
Our Facility
2 Operation Theatres
2 Dedicated LDR Suites
12 Best-in-class NICU Beds
6 Consultation Rooms
2 Triage Rooms
1 Suite Rooms
11 Executive Rooms
3 Twin Sharing Rooms
2 MICU Beds
Meet the expert specialists that deliver the very best obstetrical, gynaecological, fertility, neonatal, and paediatric care to you. Find one nearest to you and book an appointment now
ESTEEMED CORPORATE CLIENTS












Empanelled Insurance companies
✦Aditya Birla Health Insurance Co. Ltd.
✦HDFC ERGO Health Insurance Limited
✦Cholamandalam MS General Insurance Co. Ltd.
✦HDFC ERGO General Insurance Co.Ltd.
✦ICICI LOMBARD General Insurance Co. Ltd.
✦Universal Sompo General Insurance Co. Ltd.
✦Max Bupa Health Insurance Co. Ltd
✦Liberty General Insurance Ltd.
✦Religare Health Insurance Co. Ltd
✦Future Generali India Insurance Co. Ltd.
✦The New India Assurance Co. Ltd
✦The Oriental Insurance Co. Ltd.
✦United India Insurance Co. Ltd.
✦National Insurance Co. Ltd.
✦Ericson Insurance TPA Private Limited
✦Medi Assist Insurance TPA Private Limited
✦United Health Care Parekh Insurance TPA Private Limited
Packages in Noida, Motherhood Hospital
Best Maternity Hospital in Noida, Best Gynaecologist in Noida, Best Women and Children Hospital in Noida, Best Maternity Hospital near me , Best Gynaecologist near me