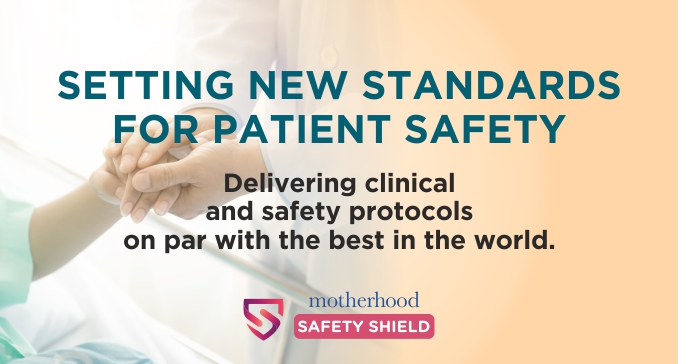 We go the extra mile to ensure that every patient receives care according to the highest safety standards, at par with the best across the world. We have equipped ourselves with training, technology and protocols that prevent and reduce risks, and care that is timely, integrated and efficient.
 "Motherhood Safety Shield," is a set of initiatives based on international standards of safety protocols. It is designed to help us deliver a safe treatment experience to every patient, every single day, every single time. 
We invest ample time and effort in training our employees extensively, with feedback (from patients and doctors) functioning as the key driver.
To ensure successful implementation of our patient safety strategy, we do periodical reviews and audits for each of these processes and protocols. 
Global Standard Operating Procedures
We follow advanced standard operating procedures laid down by top global health advisory bodies including WHO, NHS, and UK & RCOG, UK. These procedures help us achieve a unique level of patient care that is focused, safe and replicable. In fact, we have a reputation for 'zero' medical and surgical mishaps.
Enhanced Surgical Safety
At Motherhood, we focus on reducing infections, complications, and failures during surgical procedures. Our surgeons and staff use measures like surgical safety checklists to keep track of vital pre-and-post- operative parameters to keep our patients absolutely safe.
NICU SAFETY
We are equipped with separate NICUs for babies born in our hospital, and babies born outside our hospital. We have a dedicated team for each NICU. The entire staff is trained to adhere to transmission-based precautions and safety protocols.
We ensure that every newborn is provided with individual medical equipment including stethoscope, sanitiser, thermometer, incubator, etc, to prevent infections.

Any baby with suspected infection is placed in an incubator with 1:1 staff care, irrespective of the baby's condition. These measures have helped us achieve a less than 1% newborn mortality rate.
Stringent Infection control
Infection control is a top priority for us. We ensure near 0% infection rate across all our hospitals. From practising proper hand hygiene to appropriate disposal of biomedical waste to periodical sterilisation of equipment and surveillance of high-risk patient areas, we always operate with precision and commitment.
Medication Safety
Wrong drug administration is an error that can be fatal. At Motherhood, we give the highest priority to drug handling, and dosage regimen. With appropriate labelling, nomenclature and storage, we always ensure proper administration of medication.
Patient Identification protocols
To provide personalised and accurate care, we use the right tools for patient identification. With appropriate ID tags and double checks at every step, we assure a safe and seamless treatment journey for the
patient.
Monitoring of transfusion of blood, and blood products
Blood that we procure and store is fully safe and infection-free. We achieve this by following stringent quality practices.
NABH Accreditation
We are among the first to achieve NABH accreditation for 10 out of our 12 centres. We are also one of the few hospitals in India to monitor clinical outcomes for 780 parameters and 57 indicators, much more than the requisite 250 mandatory parameters as per NABH.
Nursing Excellence Programmes
Well-qualifed, skilled and motivated nurses have a great impact on the quality of care patients receive. We, at Motherhood, make sure our nurses receive all the support they need to deliver safe and high-quality care. We are the only single specialty hospital chain in Mother and Child Care to have accreditation in Nursing Excellence Programme by NABH
Medical Equipment Management
Care and maintenance of the advanced medical equipment we use, is of the utmost importance. We regularly monitor all our equipment and calibrate them, so that they function accurately at all times. We do this by following globally recognized safety guidelines for device maintenance.
Medical Emergency Management
At Motherhood, it's not just about the quality of care, it is also about the level of preparedness. Our dedicated, well-trained teams are always ready for emergencies. We conduct regular mock drills to train our staff to be fully equipped for any challenge.