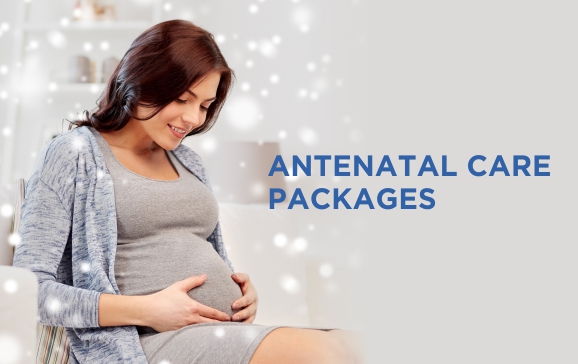 Antenatal classes, also called birth and parenting classes, prepares to-be-parents for labour, birth, breast-feeding and caring for a new-born baby. 
Motherhood antenatal care includes
The trio that's vital to every trimester:
Consultation | Lab investigations | Radiology
Motherhood attractive antenatal Care packages:
Antenatal care- T1
(0-12 Weeks)
Antenatal care- T2
(13-27 Weeks)
Antenatal care- T3
(28 Weeks until Birth)
Early Pregnancy scan
Anamoly scan
Term scan
NT scan
Tetanus injection (2 nos)
NST
CBC, Blood group
75gm GTT/OGTT
Serum creatinine
Thyroid profile
HB
HB
HbA1c
Urine routine
Gynaec Consultation (3 nos—–one in each month)
Serum creatinine
Gynaec consultation (3 nos…one in each month)
Physiotherapist consultation
HIV
Physiotherapist consultation
Dietician consultation
HCV
Dietician consultation
Lactation Advice
HbsAG (Hepatitis B)
Counselling by paediatrician
VDRL
Rubella IGG IGM
Urine routine
Gynaec consultation (3 nos….one in each month)
Physiotherapist consultation
Dietician consultation
Instructions:
Investigations which are not done in trimester 1 may be advised during trimester 2 or 3, which will be billed additionally on actuals.
All marker tests will be optional (as and when recommended by the doctor).
Why Motherhood?
At Motherhood Hospitals, we have a legacy of over a decade in delivering excellence in the women and children's space. Not only are our infrastructure and facilities world-class, but our expert specialists also have over half a century of experience in treating mothers and their children. Whether it's obstetrics, gynaecology, neonatology, or paediatrics, we have all your needs covered. Now spread over 5 states across the country, find the nearest centre to you now!

For Mother
Ask the experts unlimited parenting questions - about sleep, feeding, pregnancy, and more
Get an expert answer you can trust within an hour
Connect with vetted, certified hatch baby experts (think lactation specialists, sleep consultants, paediatric nurses)

For Baby
Read unlimited answers from certified experts
Get personalized info about your baby's development
See real questions from real parents
Save your favorite articles and answers