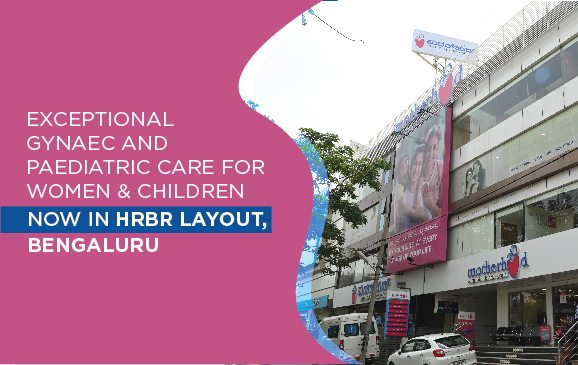 914, 5th A Cross Road, HRBR
Layout 1st Block, Kalyan Nagar,
Bengaluru- 560 043
Phone: 080 6723 8855
---
Open hours:
Consultations: 9am to 7pm
Emergency: 24/7
Laboratory: 7am to 6pm
Test Reports: 4pm to 8pm

Personalised Care for Women and Children
Motherhood Hospital HRBR Layout, Bangalore
The Motherhood Hospitals centre at HRBR Layout, Bangalore is one of the best pregnancy care hospitals in the vicinity. Spread across 10 cities, Motherhood Hospitals has 22 operational centres in strategic locations.
Motherhood Hospitals, HRBR Layout, Bangalore has been successful in emerging the best centre for gynaecology and obstetrics by providing quality care to women, aspiring mothers and children since 2010. We offer premium care with the best in class medical infrastructure, state-of-the-art equipment and the latest technology and are committed to offer the best of health care to ensure patients lead healthy and active lives.
The centre offers expert treatments in the areas of pregnancy care, gynaecology, laparoscopic surgery, fertility, paediatrics, neonatology, foetal medicine, general surgery, internal medicine, cosmetology, nutrition, radiology, and physiotherapy.
The Motherhood Hospitals HRBR centre also has a Neonatal Intensive Care Unit (NICU) offering high-intensity neonatal care 24/7. The team of highly qualified neonatologists who ensure that our state-of-the-art Level III NICU offers the required care for your little one to take on the world, fully recovered. We are proud to have the best child specialists on our panel at the HRBR centre.
The centre is also recognised as the best birthing hospital in HRBR Layout, Bangalore as we offer expecting mothers compassionate care in a homely environment in our comfortable suites, designed to cater their needs. Our team is dedicated to provide the care and comfort required throughout a mother's pregnancy journey.
Motherhood Hospital, HRBR is also equipped with adult ICUs, operative rooms, laboratory services, a 24/7 pharmacy along with highly advanced ultrasonography machines to enable our foetal medicine specialists in identifying and addressing anomalies at the earliest.
The services offered at Motherhood Hospital HRBR Layout are the best in Bangalore. They include
Advanced Laparoscopic Gynaecology Surgery
General Surgery for Women
Breast Health
Level 3 Neonatal Intensive Care (NICU)
Medical Intensive Care (MICU)
Paediatrics
Radiology and Foetal medicine
Dermatology
Physiotherapy and Lamaze
24/7 Pharmacy
24/7 Laboratory
8 to 8 Ultrasound
Round-the-clock gynaecologists & paediatricians
We also extend at home services like video consultation, home vaccinations, flu vaccinations and paediatric COVID-19 home care services.
You could book an appointment online to meet a specialist of your choice at the Motherhood Hospitals, HRBR Layout or call 08067238855 / 1800 108 8008.
Meet the expert specialists that deliver the very best obstetrical, gynaecological, fertility, neonatal, and paediatric care to you. Find one nearest to you and book an appointment now
ESTEEMED CORPORATE CLIENTS












Empanelled Insurance Companies
✦
Universal Sompo Insurance
✦
Chola Mandalam
✦
Religare Hearlth Insurance Co Ltd
✦
Reliance General Insurance
✦
HDFC ERGO General Insurance Co. Ltd.
✦
Future Generali India Insurance Co. Ltd
✦
MAX BUPA HEALTH INSURANCE CO LTD
✦
Aditya Birla Health Insurance Co.Ltd
✦
IFFCO Tokio General Insurance Co. Ltd
✦
CIGNA TTK Health Insurance Co. Ltd
✦
ICICI Lombard General Insurance Company Pvt. Ltd.
✦
Liberty General Insurance Ltd
✦
Magma HDI General Insurance Co. Ltd
✦
Bharti Axa GI
✦
The New India Assurance Co. Ltd
✦
The Oriental Insurance Co. Ltd.
✦
United India Insurance Co. Ltd.
✦
National Insurance Co. Ltd.
✦ Ericson Insurance TPA Pvt Ltd
✦ MediAssist Healthcare Services Pvt Ltd
✦ Family Health Plan (TPA) Limited with
✦ Health India Insurance TPA Services Pvt Ltd
✦ Medsave Health Insurance (TPA) Ltd
✦ Paramount Health Services & Insurance TPA Pvt. Ltd
✦ VIPUL Medcorp Private Ltd
Packages in HRBR Layout, Motherhood Hospital
Best Maternity Hospital in HRBR Layout, Best Gynaecologist in Bangalore, Best Women and Children Hospital in Bangalore, Best Maternity Hospital near me, Best Paediatricians near HRBR Layout, Best Gynaecologist near me, Motherhood Appointment, Motherhood Appointment in HRBR Layout, Motherhood HRBR Layout Appointment, Best Pediatrician in Bangalore, Best Maternity Hospital in Bangalore