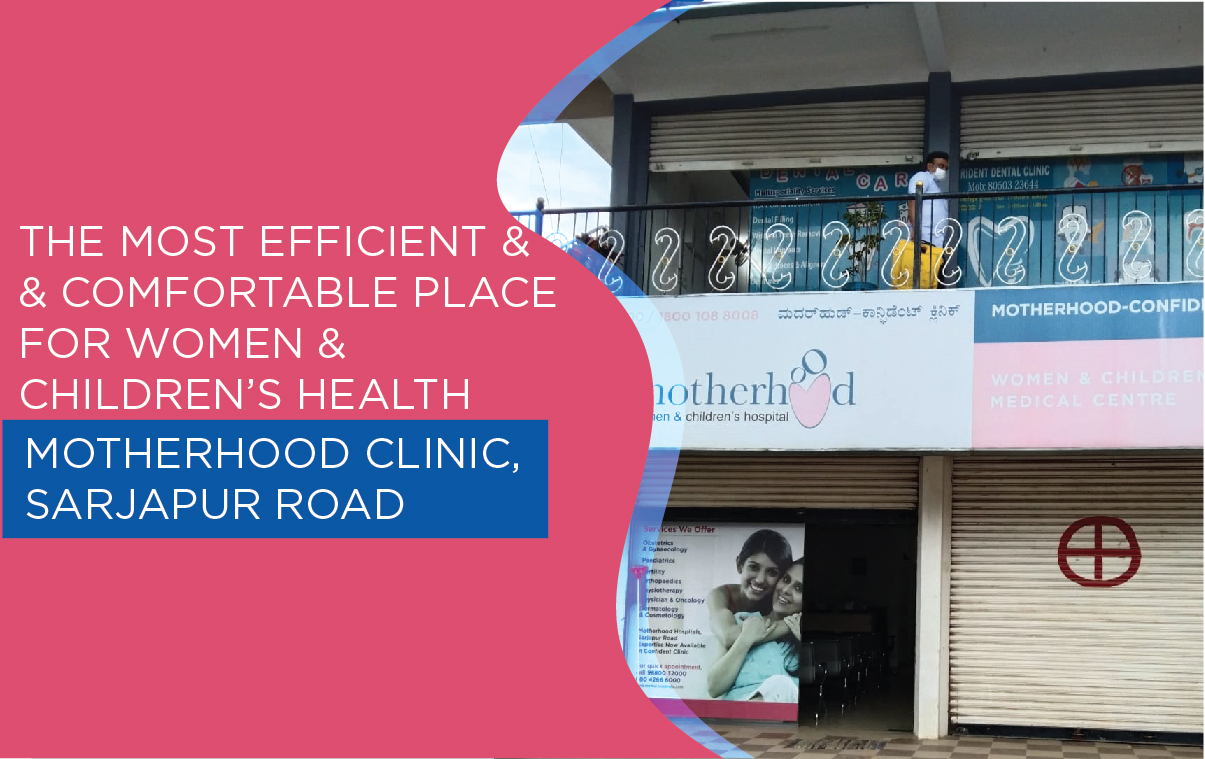 514/ 1-2-3, Kaikondara Village, opposite More Mega mall, Sarjapur Road, Bengaluru- 560104
Phone: 080 6723 8811 / 1800 108 8008
Open hours:
Consultations: 8am to 8pm
Emergency: 24/7
Laboratories: 24/7
Test reports: 2pm to 10pm
Fetal medicine and ultrasound: 10am to 8pm
A Pioneer In Exemplary Care For Women And Children

A comprehensive healthcare network known for its unparalleled treatment solutions for women and children, Motherhood Hospital stands as a shining example of compassionate care combined with advanced technology.
The range of services at the hospital includes a comprehensive pregnancy care provided by a team of experienced obstetricians supported by an able nursing team and other support services. The centre also runs an advanced neonatology programme with some highly skilled neonatologists & paediatricians backed by a state – of – the – art Neonatal Intensive Care Unit with the latest incubators and high – frequency ventilators that can provide the highest degree of care to critical care to the newborns.
The hospital offers a wide range of gynaecological care from contraceptive counselling to general gynaecology for women at different stages of life, minimally invasive gynaecological surgery, urogynaecology, adolescent gynaecology and fertility services.
We have a full range of gynaecological screening programmes that are easy to access and are designed after keeping in mind a woman's complete health.
The hospital is equipped with the best in class ultrasonography machines that aid our foetal medicine specialists to perform precise foetal scanning and helps in picking up fetal anomalies of any degree, so that an appropriate treatment plan can be designed. The operation Theatres are designed with the latest technology & equipment to enable and aid the gynaecologists and surgeons to perform a wide variety of treatments & procedures.
Services Offered
Pregnancy
Gynaecology
Advanced Laparoscopic Gynaecology Surgery
General Surgery for Women
Breast Health
IUI and Fertility Centre
Level 3 Neonatal Intensive Care Unit (NICU)
Medical Intensive Care Unit (MICU)
Paediatrics
Radiology and Foetal medicine
ENT
Dermatology and Cosmetology
Physiotherapy & Lamaze
24/7 Pharmacy
24/7 Laboratory Services
Round – the – clock Gynaecologist & Paediatricians
ESTEEMED CORPORATE CLIENTS












Empanelled Insurance companies
✦ Universal Sompo Insurance
✦ Chola Mandalam
✦ Star health and Allied Insurance Co. Ltd.
✦ Religare Hearlth Insurance Co Ltd
✦ Reliance General Insurance
✦ HDFC ERGO General Insurance Co. Ltd.
✦ Future Generali India Insurance Co. Ltd               
✦ MAX BUPA HEALTH INSURANCE CO LTD
✦ Aditya Birla Health Insurance Co.Ltd
✦ IFFCO Tokio General Insurance Co. Ltd
✦ CIGNA TTK Health Insurance Co. Ltd
✦ ICICI Lombard General Insurance Company Pvt. Ltd.
✦ Liberty General Insurance Ltd
✦ Magma HDI General Insurance Co. Ltd                           
✦ Bharti Axa GI                                                                                          ✦ The New India Assurance Co. Ltd
✦ The Oriental Insurance Co. Ltd.
✦ United India Insurance Co. Ltd.
✦ National Insurance Co. Ltd.    


✦ Ericson Insurance TPA Pvt Ltd
✦ MediAssist Healthcare Services Pvt Ltd
✦ Family Health Plan (TPA) Limited with
✦ Health India Insurance TPA Services Pvt Ltd
✦ Medsave Health Insurance (TPA) Ltd
✦ Paramount Health Services & Insurance TPA Pvt. Ltd
✦ VIPUL Medcorp Private Ltd