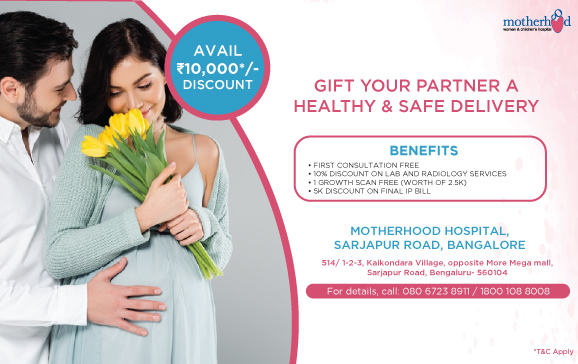 Sarjapur - Bangalore Birthing Package
Best Gynaecology Hospital in Sarjapur, Bangalore
Get the Motherhood hospital delivery packages in Sarjapur, Bangalore that offers all women comprehensive care. Motherhood Hospitals has many exciting offers and discounts for all expecting mothers. Some of them include the following -
First Consultation free
Flat ₹10,000 off on your pregnancy journey
Flat ₹5000 off on the final bill, post-delivery
Discount worth ₹5000 on OPD services
Motherhood Hospitals Sarjapur Bangalore has many experts and specialists that include the best obstetricians and gynaecologists in Sarjapur, Bangalore. With Motherhood Hospitals, Sarjapur Bangalore offers all women and children compassionate and safe care with best-in-class tools and infrastructure.
Best Delivery Hospital in Sarjapur, Bangalore
Visit Motherhood Hospitals or book a video consultation or book an online appointment with Motherhood Hospitals Sarjapur, Bangalore. You can also reach out to us at 080 6723 8811 /1800 108 8008.
Why choose Motherhood Hospitals?
Motherhood Hospitals is at the forefront of providing the finest care for women and children in India. Established in 2011, Motherhood Hospitals operates 5 state-of-the-art facilities across Bengaluru - Banashankari, HRBR Layout, Indiranagar, Sarjapur and Hebbal with NABH accreditation to Indiranagar, Sarjapur & Hebbal units. Offering advanced and compassionate care for women and children, Motherhood Hospitals has set new benchmarks in clinical excellence and round-the-clock care with NABH accreditation.
Over the years, Motherhood Hospitals, Bengaluru has built a comprehensive portfolio of services that include everything from world- class diagnostics facilities to advanced surgical interventions to specialized pregnancy programs to safe vaccination drives.
Motherhood Hospital, Bangalore
One Of The Best Women & Children's Hospital In Bangalore
The Motherhood Women and Children's Hospital, Bangalore strives to bring the best quality care and treatment modalities. The hospital is equipped with the best – in – class technology and infrastructure that complements the warm – hearted attitude and benevolent care given by the doctors and the support staff. The focus is on delivering clinically – proven and customised treatment solutions to our patients.
Our patient-centric approach makes us one of best hospitals in the country. Motherhood team comprises best medical experts who focus on normal pregnancy, thus we are identified as a normal delivery hospital in Bangalore. Motherhood offers world-class care along with best deals on pregnancy packages in Bangalore.
You and your little angel are in the safest hands at Motherhood.
Our services and facilities include:
Well-equipped labour and delivery rooms
Ultra-modern equipment
Level III NICU Ventilator enabled ambulances
Well trained nurses & medical staff
24X7 Pharmacy
Array of maternity packages
Trusted experts with over 30 + years of clinical experience
Why Motherhood Hospital?
At Motherhood Hospitals, we have a legacy of over a decade in delivering excellence in the women and children's space. Not only are our infrastructure and facilities world-class, but our expert specialists also have over half a century of experience in treating mothers and their children. Whether it's obstetrics, gynaecology, neonatology, or paediatrics, we have all your needs covered. Now spread over 5 states across the country, find the nearest centre to you now!

For Mother
Ask the experts unlimited parenting questions - about sleep, feeding, pregnancy, and more Get an expert answer you can trust within an hour Connect with vetted, certified hatch baby experts (think lactation specialists, sleep consultants, paediatric nurses)

For Baby
Ask the experts unlimited parenting questions - about sleep, feeding, pregnancy, and more Get an expert answer you can trust within an hour Connect with vetted, certified hatch baby experts (think lactation specialists, sleep consultants, paediatric nurses)