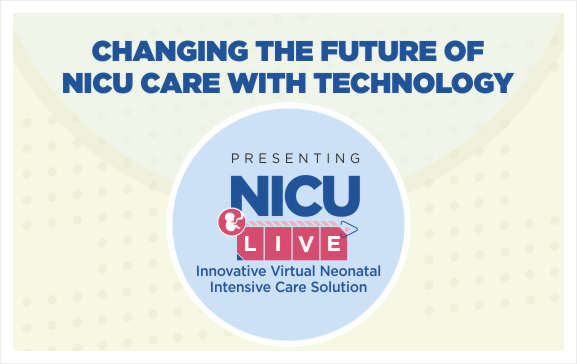 About NICU Live
NICU LIVE BY MOTHERHOOD
An Innovative Virtual Neonatal Intensive Care Solution from Motherhood Hospitals
The Vision
To make Quality intensive care facilities available to all critically ill infants, in urban and remote areas.
India records around2.3 million neonatal deaths yearly due to a lack of quality health services.
Motherhood, India's leading network of women and children's hospitals, has launched the first of its kind NICU – Live neonatal services, a state-of-the-art Intensive Care Management solution available remotely.
NICU aims to make world-class neonatal care accessible to new-borns, wherever they may be. The solution offers simple-to-use yet effective innovative technology that enables high-quality clinical expertise to deliver tailor-made patient-centric solutions.
NICU Live is conceived to upgrade your NICU by improving capacity utilization, and digitization, while also providing continuous advanced-level training for nurses.
"CONNECTING CRITICAL CARE, SAVING LIVES!"
How NICU LIVE Works the Magic?
NICU Live's innovative remote monitoring and assistance program uses technology to save a newborn life, time, and money. Motherhood NICU Live's remote NICU solutions attend to critically ill newborns, remotely.
Running on a simple hub-and-spoke model, NICU Live is designed to benefit numerous families, where accessibility to neo-natal healthcare expertise and 24×7 monitoring is out of bounds. It aims to augment the productivity and capacity of doctors and nurses in urban as well as remote centers seeking to upgrade their facilities. It is an effort to give babies a new lease of life by delivering advanced neonatal intensive care, which it was a challenge earlier.
NICU Live is powered by, a cutting-edge digital platform that facilitates collaboration, active clinical operations, and outcomes analysis. It facilitates role-based workflows, actionable alerts, and machine-learning tools.
It provides a remote connection to Motherhood's specialized team of Neonatologists, skilled nurses, and medical experts with the local healthcare center. This connection offers neonatal emergency care, allowing them to monitor urgent medical conditions around-the-clock. The NICU solution enhances the productivity of the doctors and nurses to attend to critical babies and offer advanced diagnosis and treatment plans. 
The solution will help to upgrade the existing remote NICU to an advanced level by:
Improving capacity utilization
Enabling efficiency through digitization
Providing continuous advanced-level training for nurses
NICU Live ensures that distance and time never stand as a barrier to saving young lives – and technology truly supports this vision!
NICU Delivers:
NICU Live's remote healthcare center will be connected nodally to the central care center (managed by Motherhood Hospital's in-house expert team) using state-of-the-art tools.  
The NICU Live solution delivers:
A NICU Live platform that makes remote neo-natal monitoring available, with access to a multidisciplinary expert team.
24*7 management, nursing, and consultation of patients by highly-experienced and trained clinicians from Motherhood.
Live monitoring of the vitals and conditions of the baby.
Enhanced productivity and quality of life for caregivers.
Shorter hospital stays and better resource utilization, for higher patient turnaround.
Capability to handle more severe and critical cases.
Lower transfers and increased footfall.
Efficient clinical operations, potential risks, and analysis, thereby maximizing focus on the remote team's patient care services.
Ensures role-based workflows and actionable alerts through machine learning tools.
Improved clinical outcomes.
With the power of Digitization, NICU Live offers:
24×7 availability.
Remote access allows healthcare experts to offer their services to patients without geographical boundaries.
Digital database capabilities- delivering paperless documentation and records.
Ability to derive Insightful analytics.
Central data repository of all lab reports, x-rays, and prescriptions.
Proactive monitoring tools onsite, leading to Improved healthcare outcomes.
Automated vital parameters entry, facilitates medication administration seamlessly, and the availability of lab and radiology results without delay.
Quick and easy collaboration between the bedside doctors and specialists from the remote center through notifications, secure chats, video conferencing, and high-definition video feeds.
Medical intelligence is the perfect assistant to auto-complete notes, take dictations, and keep the ICU running and patients safe.
Product Solution
Nursing Education & Training
Current Location & Stats
Testimonials
Impact Cases
Team
FAQs
To improve the ICU utilization and quality of care, reach out to us.