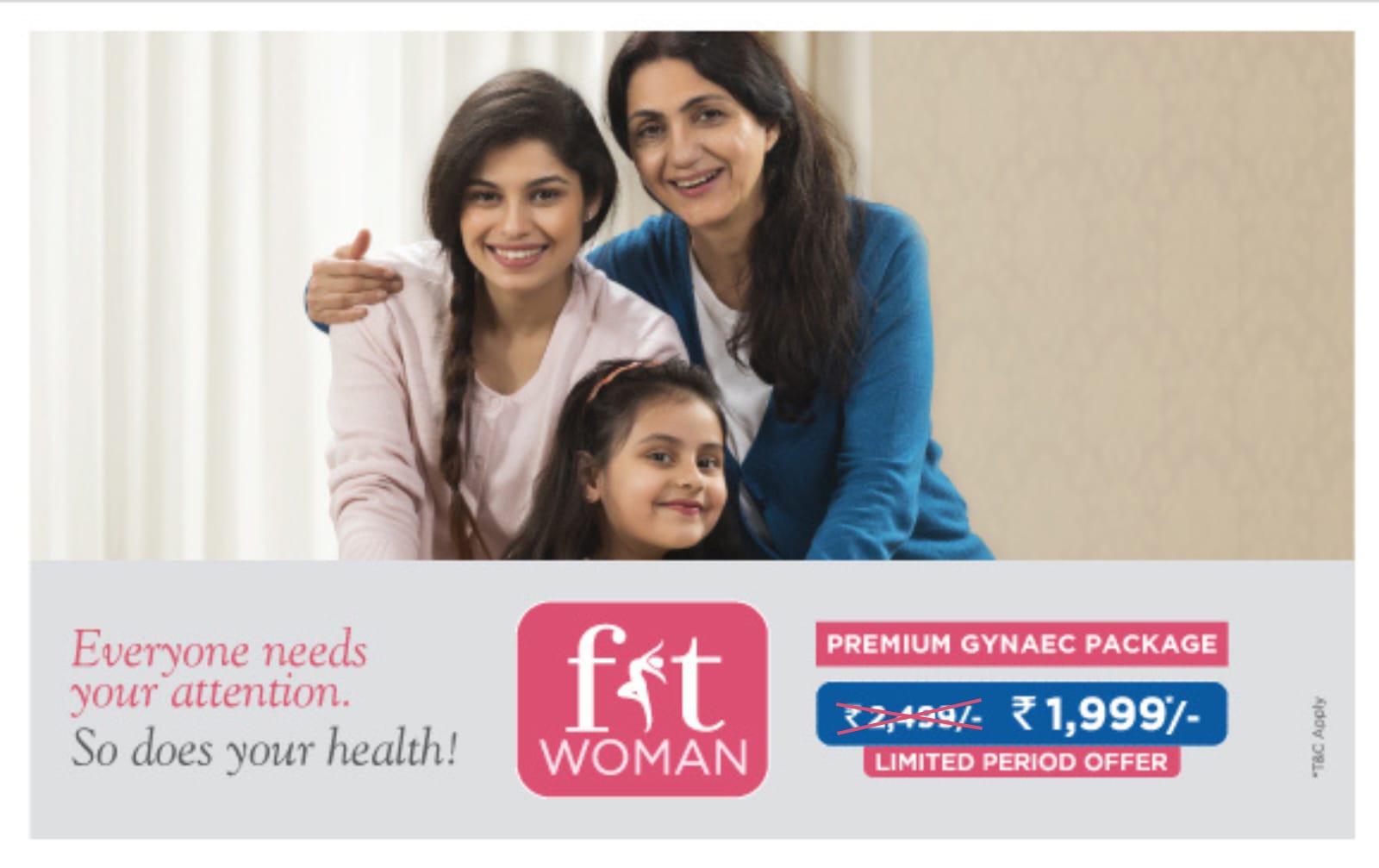 Fit Woman Gynae Premium Package
Motherhood Hospitals Fit Woman Package is one of the best women's health checkup packages designed to provide an effective way to address women's health issues and encourage them to take care of their reproductive health in a holistic way. It is important to get a complete checkup done at least once a year to maintain women' health at an optimum. 
Our Fit Woman package focuses on detecting any illnesses or concerns early on so as to mitigate them before they become problematic.
The Premium Gynaec Package includes:
1. Complete Blood Count (CBC)
CBC is a blood test that assesses overall health, detecting conditions like anemia, infection, and leukemia by measuring red and white blood cells, hemoglobin, hematocrit, and platelets. 
2. Thyroid Function Test 
Thyroid function testing consists of blood tests for thyroid stimulating hormone (TSH), thyroxine (T4), and triiodothyronine (T3). These tests are used to diagnose thyroid issues.
3. Routine Urine Check 
A routine urine check is used to detect and manage a wide range of disorders, such as urinary tract infections, kidney disease and diabetes.
4. Fasting Blood Sugar Test
Fasting blood sugar test is done to measure the glucose levels in your blood as a way to detect prediabetes, diabetes or gestational diabetes. This test requires fasting for 10 to 12 hours before the test. 
5. HbA1c 
The hemoglobin A1C test, often known as the HbA1c test, is a simple blood test that examines your average blood sugar levels over the previous three months. It is one of the most often used tests for diagnosing prediabetes and diabetes. 
6. PAP Smear 
The PAP test (or PAP smear) is used to detect precancers, cell changes on the cervix that might become cervical cancer if they are not treated appropriately.
7. Abdominal/Pelvic Scan
One of the most common women's health tests, an abdominal/pelvic ultrasound is a non-invasive diagnostic test used to get a quick view of the uterus, cervix, vagina, fallopian tubes and ovaries, so as to detect. Any abnormalities in size, growth, and cysts. 
To promote women's health care and encourage more people to invest in full body checkup for female, Motherhood Hospital's Fit Woman includes special offers such as:
Mandatory consultation with the gynaecologist
20% Off on all Laboratory Tests 
10% Off on Flu Vaccine 
To know more about the exclusive women's health checkup package, please call 𝟗𝟔𝟐𝟎𝟑-𝟗𝟔𝟐𝟎𝟑 or book an appointment. 
FAQs
1.Why the fit woman premium health package?
The Fit Woman Premium Health Package is designed to encourage full body checkup for women as a preventive measure to maintain good health with a special focus on reproductive health. 

2. What are the benefits of the fit woman premium health package?
Apart from exclusive discounts on women's health checkup packages, the benefits of Fit Woman Package includes 

3. All these tests are to be done empty stomachs?
Yes, it is advisable to do these tests on an empty stomach. 

4. Are ID Cards mandatory before getting these tests?
No, ID Cards aren't mandatory before getting these tests

5. How many hours of fasting is necessary before these tests?
There is a 12-hour fasting necessary before the blood test to get the most accurate readings. 

6. Can I drink water before the procedure?
Yes, water does not affect the results of a blood test, so you can have water in the fasting period before the blood test. 

7. Can I have breakfast before the procedure?
No, since there is a fasting period of 12 hours required before the blood test, you cannot have breakfast before the procedure. 

8. Should I bring my previous reports before getting these tests done?
No, previous reports aren't necessary for getting these tests.

9 Are these any restrictions like smoking and alcohol consumption before these tests?
Yes, you must respect the 12-hour fasting requirement before the tests as alcohol and smoking can affect blood sugar and fat levels, thereby giving inaccurate results. 

10. Will they collect urine samples or blood samples for these tests?
The test will require collection of both urine and blood tests since the package includes blood work as well as routine urine check. 

11. Do we have any dress code for these tests?
No, but it is advisable to wear loose and comfortable clothing while coming in for the test. 

12.Are the consultation charges part of a package?
Yes, the consultation is part of the package. The Fit Woman package is a comprehensive women health package that caters to all health care needs focused on women and their reproductive health.
Why Motherhood Hospital?
At Motherhood Hospitals, we have a legacy of over a decade in delivering excellence in the women and children's space. Not only are our infrastructure and facilities world-class, but our expert specialists also have over half a century of experience in treating mothers and their children. Whether it's obstetrics, gynaecology, neonatology, or paediatrics, we have all your needs covered. Now spread over 5 states across the country, find the nearest centre to you now!

For Mother
Ask the experts unlimited parenting questions - about sleep, feeding, pregnancy, and more Get an expert answer you can trust within an hour Connect with vetted, certified hatch baby experts (think lactation specialists, sleep consultants, paediatric nurses)

For Baby
Read unlimited answers from certified experts Get personalized info about your baby's development See real questions from real parents Save your favorite articles and answers