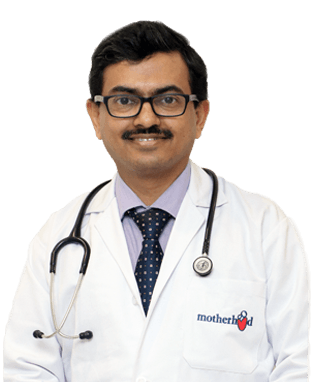 MBBS, DCH, DNB (Paediatrics), MNAMS, DM (Neonatology), Fellowship in Neonatology (Australia)
Senior Consultant - Peadiatrician & Neonatologist
Working TimeMonday, Wednesday, Thursday, Friday, Saturday - 11 am to 2 pm, Tuesday - 9 am to 11 am
Qualification DetailsMBBS, DNB, DCH, DM
Overview
Distinguished expertise and unmatched skills with 20 years of experience! One of the rare elite neonatologists in India with both DM qualification and neonatology fellowship from Australia, Dr Tushar Parikh has 20 years of experience in treating newborns and young children. He focuses on the child's optimal growth,
nutrition
,
vaccination
and neurodevelopmental progress. Dr Parikh has multi-dimensional expertise in all dimensions of
neonatal care
including neonatal ventilator support (including high frequency and nitric oxide therapy), total parenteral nutrition, neonatal functional echocardiography, management of extremely premature neonates, therapeutic hypothermia etc. As testimony to his unmatched skills as a neonatologist, he is renowned for the survival of the smallest birth-weight baby in India (birth weight 495 gms) under his care in 2011 and youngest premature in Pune (baby born at 23 weeks) in 2018. Dr Parikh has expertise in outpatient (OPD) follow up care for children as well. His areas of interest include perinatology; neonatal hemodynamics; functional echo (fECHO) in neonates; clinical research and publishing; advanced assisted ventilator support; care of micro-premies; parenteral nutrition and follow up of high-risk neonates. Dr Parikh is an MBBS from BJ Medical College, Pune. He went on to be DNB (Pediatrics) from National Board Of Examination, New Delhi; DM (Neonatology) from Seth GS Medical College, Mumbai; DCH from KEM Hospital, Pune; and MNAMS from National Academy of Medical Sciences, New Delhi. He also has Fellowship in Neonatology, Caroline Chisholm Perinatal Centre, Liverpool, Sydney, Australia. He is a National Board (New Delhi) guide for DNB (Neonatology) training at KEM Hospital, Pune. Dr Parikh is a popular speaker and is much sought after by medical colleges and academic & scientific forums to teach paediatricians, postgraduate students, nurses and paramedical staff. He has participated as faculty/ speaker in more than 40 workshops across India and delivered lecture/presentations in Dubai, France, Bangladesh and USA. If you are looking for a complete clinician, Dr Parikh is the ideal choice for you. Book an appointment now!
PhilosophyEnglish/ Hindi/ Marathi/ Gujrati