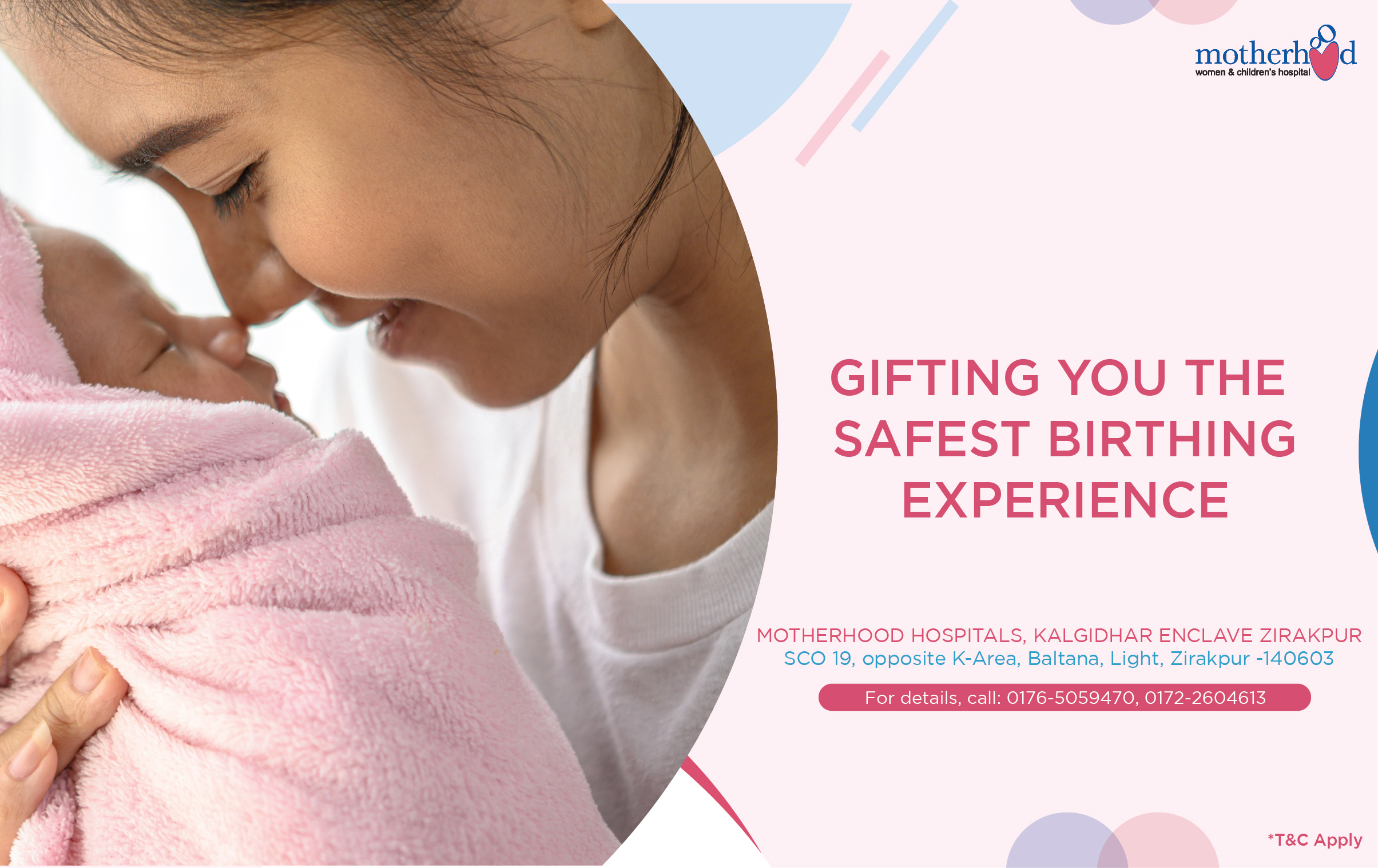 Zirakpur - Chandigarh Birthing Package
Best Delivery hospital in Zirakpur, Chandigarh
Motherhood Hospital Zirakpur, Chandigarh
ensures you a smooth and compassionate delivery journey. We have the
Best Gynaecologist Obstetrician in Zirakpur, Chandigarh
who are there for all your medical concerns and questions throughout your pregnancy journey and even after. Motherhood Hospitals is known for their end-to-end care for all women and children.
Best Pregnancy packages in Zirakpur, Chandigarh
Get in touch with Motherhood Hospitals to avail the
best pregnancy packages in Zirakpur, Chandigarh
.
Book an appointment
or a
video consultation
. You can also reach us on
0176-5059470
/
0172-2604613
/
1800 108 8008
.
Why Motherhood Hospital?
Motherhood Hospitals provide a complete gamut of Mother and Child health, backed by a strong team of Obstetrics and Gynaecology, Paediatrics, Dietitian and Physiotherapist. We at Motherhood hospital supports natural birthing with relaxation techniques, breathing exercises, visualization and counselling. We would like to be a part of your journey sign up with us for more information.
Best Maternity Hospital in Zirakpur, Chandigarh
Birth is a natural, physiological process that a mother's body can perform effectively and a majority of expecting mothers is capable of normal vaginal delivery. With a team of best gynaecologists at Motherhood, we offer an expansive set of services and facilities to all the Moms-to-be. Starting from pre-delivery, during delivery to post delivery and birthing. Many women have a strong feeling of empowerment during labor and a sense of accomplishment afterwards. Despite having to endure pain, there are reports wherein they choose un-medicated birth again next time
SERVICES OFFERED
Obstetrics
Gynaecology
Advanced Laparoscopic Gynaecology Surgery
General Surgery for Women
Breast Health
Fertility Care
Neonatal Intensive Care (NICU)
Medical Intensive Care (MICU)
Paediatrics | Diebetology & Endocrinology
Radiology & Fetal Medicine
Dermatology & Cosmetic Surgery
Physiotherapy & Lamaze
24/7 Pharmacy
24/7 Laboratory Services
8 to 8 Ultrasound Services
Round-the-Clock Paediatricians & Gynaecologists
Why Motherhood Hospital?
At Motherhood Hospitals, we have a legacy of over a decade in delivering excellence in the women and children's space. Not only are our infrastructure and facilities world-class, but our expert specialists also have over half a century of experience in treating mothers and their children. Whether it's obstetrics, gynaecology, neonatology, or paediatrics, we have all your needs covered. Now spread over 5 states across the country, find the nearest centre to you now!

For Mother
Ask the experts unlimited parenting questions - about sleep, feeding, pregnancy, and more Get an expert answer you can trust within an hour Connect with vetted, certified hatch baby experts (think lactation specialists, sleep consultants, paediatric nurses)

For Baby
Ask the experts unlimited parenting questions - about sleep, feeding, pregnancy, and more Get an expert answer you can trust within an hour Connect with vetted, certified hatch baby experts (think lactation specialists, sleep consultants, paediatric nurses)