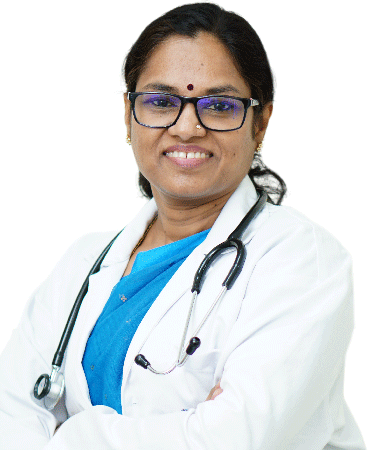 Dr. Madhuri Vidyashankar. P
Consultant Gynaecologist, Hysteroscopic & Laparoscopic Surgeon
UNITWind Tunnel Road, Bangalore, HRBR Layout, Indiranagar, Kanakapura Road Clinic
LANGUAGEEnglish, Kannada, Hindi
Working TimeIndiranagar - Mon, Wed, Fri, Sat - 11:00 AM to 1:00 PM
Qualification DetailsMBBS – Karnataka Institute of Medical Sciences, Hubli, (KIMS) – 1999 MS – Obstetrics and Gynaecology – Jagadguru Jayadeva Murugarajendra Medical College (JJMMC) – 2005
Overview
Dr. Madhuri Vidyashankar. P is a Gynecologist, Hysteroscopic & Laparoscopic Surgeon. She has had 12 years of experience and 7 years of exclusive experience in gynaec laparoscopy practice and has performed more than five thousand endoscopic procedures. She specializes in Advanced Hysteroscopy & Laparoscopy procedures like Septal resection, Submucous Myoma resection, Surgery for Ashermans Syndrome, Polypectomy and endometrium-enhancing procedures for infertility.
Dr. Madhuri Vidyashankar is an Alumnus of KIMS, Hubli. She has done her masters from JJMMC, Davanagere, and super speciality in Gynaec Laparoscopy from Ramesh Hospital Bangalore in 2010.Dr. Madhuri has authored a book on "Single port laparoscopic surgeries" and contributed to chapters in endoscopy textbooks.
Dr. Madhuri performed more than 9000 Gynaec Endoscopic procedures including Total Laparoscopic Hysterectomies, Laparoscopic Myomectomies, Operative Laparoscopy for Endometriosis, fertility Enhancing Laparoscopic Surgeries, and hysteroscopic surgeries
Research & Publications:
Authored a book on "Single Port Laparoscopic Surgeries in Gynecology" with Dr. B Ramesh . Published by J P brothers, 2012.
Published an article on single port laparoscopic myomectomy in the Indian journal of Gynaec laparoscopy, 2011
Presented a paper on "How to minimize blood loss during laparoscopic myomectomy" at YUVA FOGSI conference, 2012 , Bangalore
Professional_MembershipsMember, FOGSI, Federation of Obstetrics and Gynecological Society of India. Member of IAGE, Indian Association Of Gynaecological Endoscopists. Member, IFS, Indian Fertility Society.