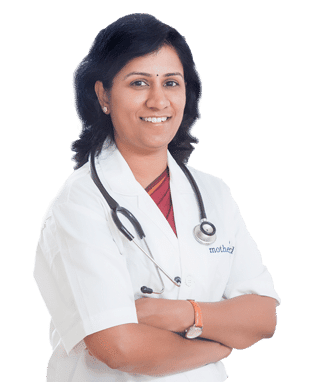 Dr. Madhushree Vijayakumar
Consultant - Obstetrician & Gynaecologist
LANGUAGEEnglish, Kannada, Tamil, Hindi
Qualification DetailsMBBS, DGO, FRCOG, MRCOG
Overview
Dr. Madhushree Vijayakumar has Nearly 20 Years of Experience, Her interest lies in
High-Risk Pregnancy
, Reproductive Endocrinology &
Fertility Care
With Special Interest in Natural Birth and Promoting Normal Vaginal Deliveries. She has extensive experience in working in India, Australia and United Kingdom and she is involved in teaching and training post-graduate doctors for appearing for the MRCOG examinations. She has done more than 5000 successful deliveries.
Publications
Case Report on Severe Kyphoscoliosis in Pregnancy , JPOG - July/Aug '14.
Case Study on Complaints of Heavy Bleeding Following Post Abortal Curettage , JPOG - May '13.
Descriptive Study of Second Hand Smoking Among Antenatal Women.  JPOG - Oct '13.
Case Report on Molar Pregnancy With Viable Foetus Progressed to Term. JPOG - Mar ' 13.
Several Blogs and Research Papers on Wide Range of Obstetrics and Gynaecology Topics Including Contraceptive Injections , Breast Awareness , Emergency Contraception , PI Diseases , Menopause , In Fertility , Dysmennorhea , Mensturation , Medical Terms in OBG and Frequently Asked Questions in OBGYN.
Achievements
Organizing Secretary For International Interpartum Conference , IISA , Bangalore - 2017.
Presented at World Congress of OBGYN , Hyderabad - 2016.
Organizing Secretary For International Perinatal Conference - 2019.
Delivered Lectures in Many Conferances ans CME's
Main Coordinator and Executive Committee Member of Bangalore RCOG Under Which MRCOG Courses are Conducted.
Certifications CCGDM- Certificate course in management of GDM from Public health foundation of India- 2013 CCMDT- Certificate course in management of Thyroid disorders from PHFI- 2015 Post graduation in Reproductive Endocrinology and Infertility from ACOG- 2016
FAQs