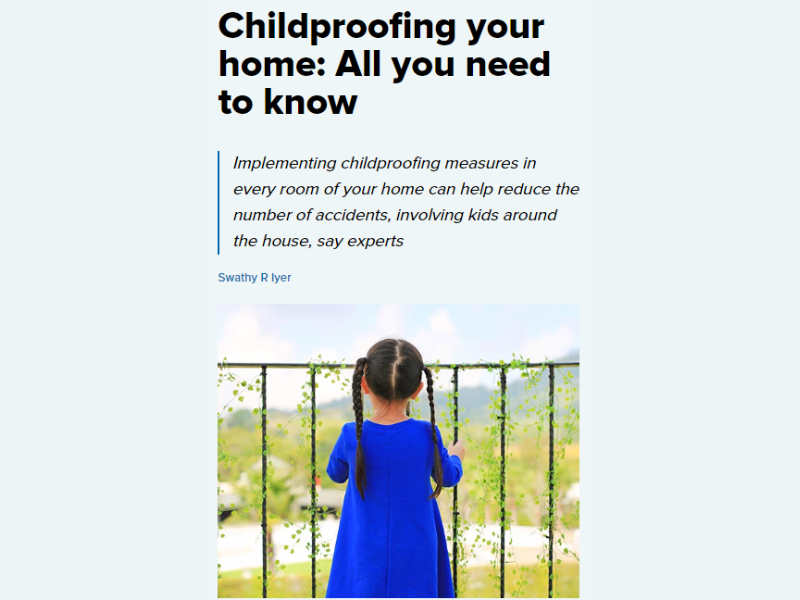 Childproofing your home: All you need to know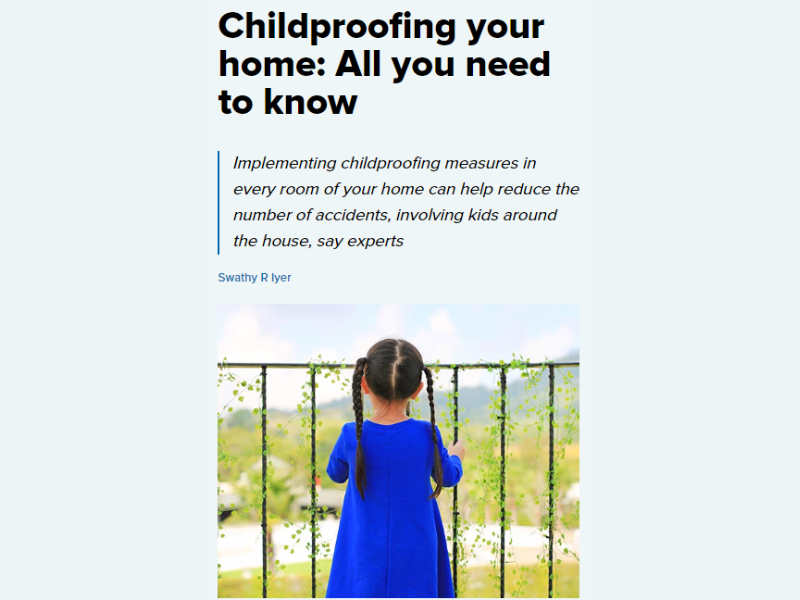 For parents of hyperactive toddlers, dealing with emergencies and accidents around the house is a daily reality. Childproofing every room in your home and ensuring there are no safety hazards in the house can prevent many of these accidents, experts say.
Dr Sindhura Munukuntla, pediatrician, Yashoda Hospitals, Hyderabad says that many parents consider such domestic accidents inevitable and a natural part of growing up. However, some of these avoidable mishaps can lead to serious, long-term complications, she says.
Childproofing your homes prevents accidents
Dr Munukuntla says that over the past one month, she has handled three cases of toddlers falling from balconies and sustaining serious head injuries and multiple fractures. Childproofing your homes can help prevent such accidents, she adds.
In a recent case, a one-year-old baby was brought to the emergency department of the hospital with seizures and a severe head injury. The baby had fallen from the balcony of the second floor of their home in Hyderabad, trying to retrieve a toy that had fallen through a small gap.
"We had to immediately intubate (insert a tube into their windpipe through the nose or mouth) and put the baby on a mechanical ventilator. The CT scan report showed brain hemorrhage. Fortunately, it was not serious enough for an immediate surgical intervention. The baby also had pulmonary hemorrhage or bleeding in the lungs. It had consumed some food just before the incident and ended up vomiting and causing aspiration hazard (when food particles enter the lungs) or choking. The baby developed secondary infections as well. We had to continue mechanical ventilation for four days," says Dr Munukuntla.
On day five, the baby was discharged in a stable condition with a prescription of anti-seizure medications.
"The parents, however, are in a state of panic and now are extremely anxious," she says.
Dr Lini Balakrishnan, Neonatologist and Pediatrician, Motherhood Hospitals, Sarjapur, Bengaluru says that children are constantly on the move and are always curious to explore.
"A serious unintentional injury however, is very different from a minor bruise. To avoid serious accidents which may be life-threatening, it is important for parents to childproof their houses," she says.
Childproofing your home: Common accidents that involve children
Dr Munukuntla says that some of the common types of emergency cases involving children are ingestion of batteries or medication found lying around the house and finger injuries caused by doors crushing fingers.
"Button batteries and some toys that children play with are also a huge menace," she adds. 
Other common types of accidents that usually occur around the house include ingestion of kerosene, cleaning agents, pesticides and mosquito repellents and other such harmful liquids that are usually stored in soft drink bottles around the house, Dr Munukuntla says. "Bathroom and kitchen are two areas of the house where the maximum number of accidents occur. Ensure they are closed and out of children's reach whenever not in use.," she says.
Dr Balakrishnan adds, "Parents should inspect every section of the house to prevent accidents."
In addition to implementing basic childproofing measures, experts also recommend parents be aware of Cardiopulmonary resuscitation (CPR) techniques, so they can help their toddlers before emergency help arrives.
"I educate all parents about learning CPR," says Dr Munukuntla.
Don't describe medicines as chocolates
Do not use words like 'candy' and 'chocolates' to describe medications. "This causes them to eat adult medication thinking it is candy," says Dr Munukuntla.
Dr Balakrishnan adds that it is important for parents to always keep an eye on their kids, check every minor detail in their daily routine and think about its safety implications.
"Parents should remember that assuming your child will obey and listen to you every time isn't realistic. When babies grow, so does their willpower. This may cause your child to disobey a rule they have consistently followed. In these cases, childproofing is helpful in assuring the required safety," she says.
Takeaways
Accidental foreign body ingestion, falls and burns are some of the most common pediatric emergencies that can occur within the confines of one's own home.
Implementing a few childproofing measures in each room of the house can prevent many of these accidents, say experts.