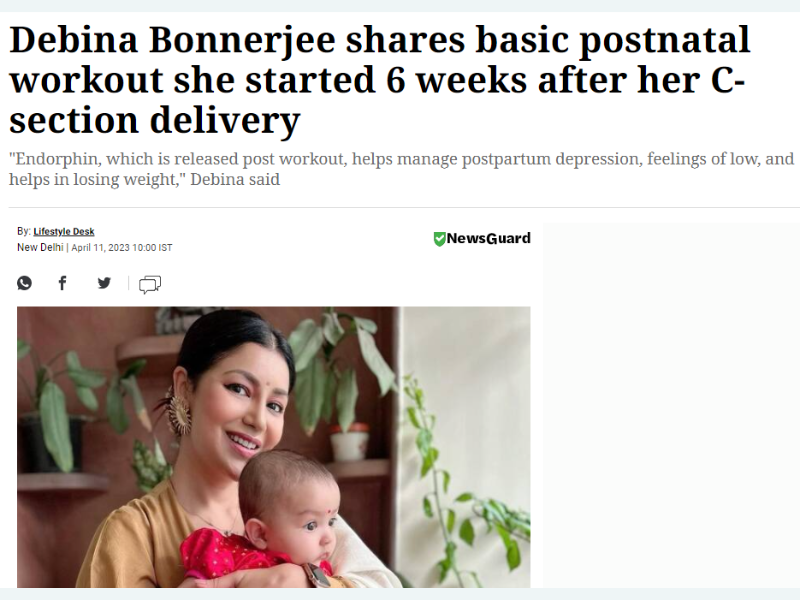 Debina Bonnerjee shares basic postnatal workout she started 6 weeks after her C-section delivery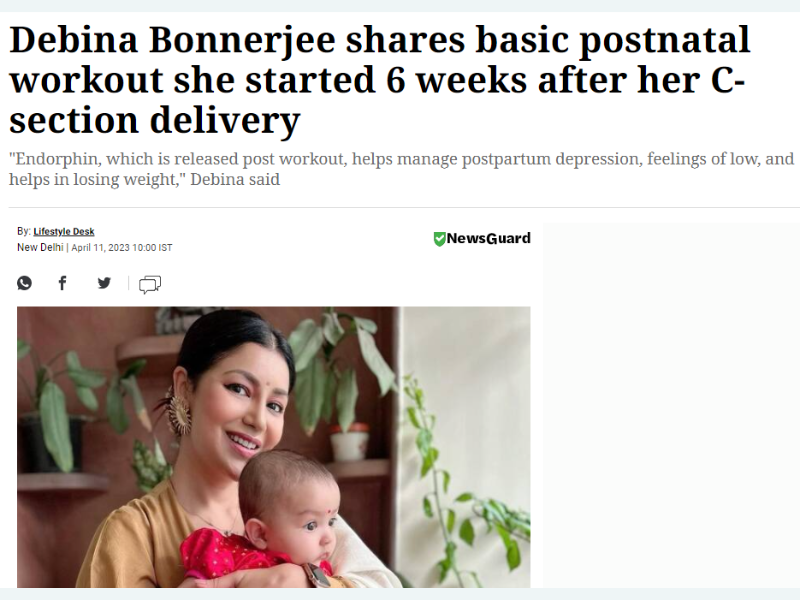 Debina Bonnerjee, who is a new mother to two daughters Lianna and Divisha, regularly shares snippets from her motherhood journey. Apart from posting how she takes care of her babies, the actor-vlogger also updates her followers on how she is taking care of her health and fitness after delivery. As such, she recently took to her official YouTube channel to demonstrate her basic postnatal workout which she started six weeks after her C-section.
"Today, I am showing you some basic workouts that you can do after 45 days of your
C-section delivery
. I have done these workouts and I can say with a guarantee that they don't pose any harm. In fact, they do good. This is just 18 minutes of workout which you can do at home without any equipment," she started out saying.
Debina added, "Along with exercise, it's equally important to focus on diet. Muscle recovery remains maintained with the intake of the right protein. As new mothers, we need increased stamina and energy if we are starting our workout. That can't be achieved with our regular nutrition. For that, we need to top up our diet with additional protein."
She started her workout with some warm-up exercises. "We do warmup so that our body doesn't feel any kind of strain," her trainer said. Debina performed arm rotations, arm swings, neck exercises, trunk rotations, left swings, knee rotations, and ankle rotations.
The actor then went on to perform some post-natal exercises, including wall push-ups, leg raises, hip raises, standing calf raises, pullovers, clams exercises, toe touches, and spinal stretches, among others. "Endorphin, which is released post workout, helps manage postpartum depression, feelings of low, and helps in losing weight," she concluded by saying.
Emphasising the importance of postnatal workouts, Dr Pratima Thamke, Consultant Obstetrician and Gynaecologist, Motherhood Hospital, Kharghar said that they shouldn't be skipped after delivery as exercising has numerous health benefits. "A new mother will be able to get back in shape and lose oodles of weight with proper exercise and diet routine. Apart from that, one will be able to improve cardiovascular health, strength, stamina, endurance, flexibility, and agility. Exercising can also tone the abdominal muscles and keep one active and energetic. It is possible for one to reduce stress, sleep well and battle the symptoms of postpartum depression such as anxiety," she said.
Dr Thamke added that exercising will also help improve one's overall well-being. "It will be a good idea to start exercising after a week or two for ones with vaginal delivery. In case, one has undergone a cesarean section then she needs to ask the expert about the right time to exercise. It is advisable to exercise under the guidance of an expert only and consult the doctor first before initiating any fitness program. Also, do not do any strenuous activities, you can start with walking or yoga. Even meditation can relax and calm you down by helping you to de-stress. Don't forget to warm up and cool down before and after exercising, stay hydrated, and stop immediately if you experience pain at any point in time," she said.