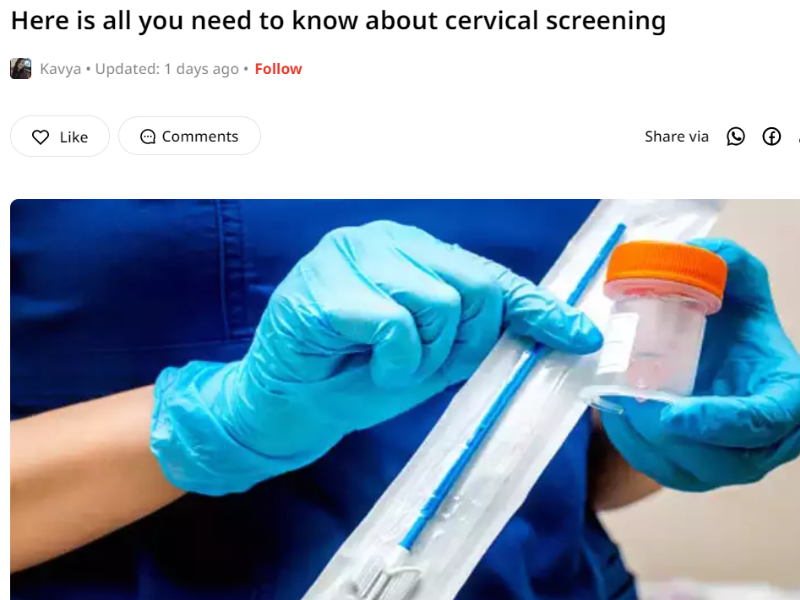 Here is all you need to know about cervical screening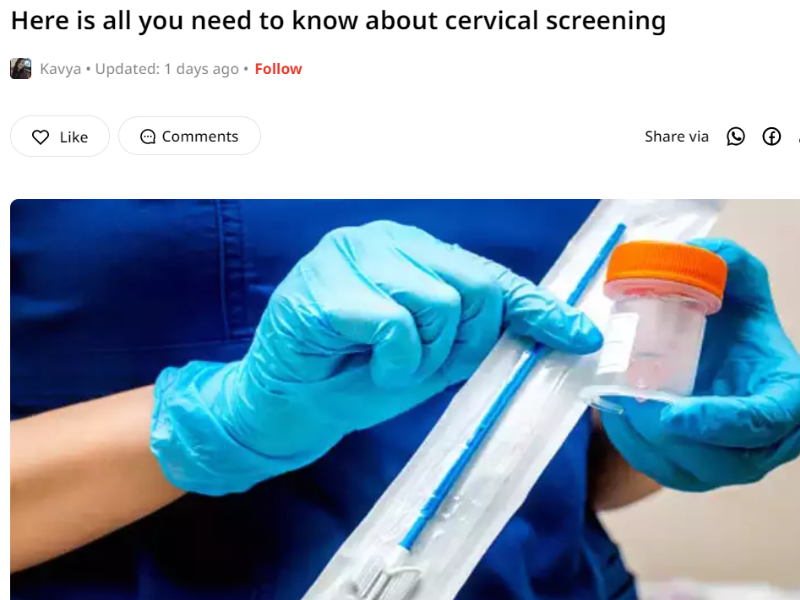 Hi girls! Hope you are doing well! Now that you read the title, we are sure that you want to know all the answers to your questions when it comes to cervical screening . More often than not, whenever a woman hears the word "cervical screening", they come across various questions and more specifically, they grow anxious. But what is cervical screening and what happens in it? Know from Dr Manju Gupta (Senior Consultant Obstetrician & Gynaecologist, Motherhood Hospital , Noida) everything you have to.
As per Dr Manju, "while cervical screening may be uncomfortable or embarrassing for some women, the importance of the 'smear test' cannot be overstated." Though we don't understand, but there are various reasons why women would decide against going to a screening. One of the most common misunderstanding is that the test is for cancer, when in fact it is not. You read that right! It's a test to prevent cancer by detecting the abnormalities early on. It allows for monitoring or treatment thus preventing the development of cervical cancer .
"The Pap Smear test" and the "HPV test" are both designed to detect cervical cancer early to help prevent it.

Now you must be wondering, what is the purpose of these tests? Know here!

The purpose of an HPV test is to look for the human papillomavirus ( HPV ), which can alter cervical cells. Whereas, the Pap test , commonly referred to as a Pap smear, examines cervical cells for precancerous changes that, if left untreated, could develop into cervical cancer.
What precisely happens during a Pap test?
So the procedure says that a sample of cervical cells is taken from the cervix through the vagina during the test. Samples are taken using a cotton swab or brush after a special device called a speculum is placed into the vagina. Then, this sample is sent to a lab to be examined under a microscope in order to find any abnormalities. It takes fewer than five minutes to complete this process.
Before the screening, it is very important to know how should you prepare yourself for the screening. Read ahead to find out.
You don't need to do anything particular to get ready for your HPV or Pap test! You can take precautions to ensure the accuracy of the test results if you are having a Pap test. For two days prior to the test, refrain from sexual activity, douching, using spermicidal foam or vaginal medications. Go for your visit as scheduled and let the doctor know whether you had sex prior to the test. Don't worry if you are on your period, both the tests can still be carried out.
Are you wondering if this Pap smear test hurt?
The Pap Smear test is generally not painful, but some discomfortable sensation can be felt during and after the procedure, which may last for a few hours. This is due to the complexity of the procedure involved in collecting cervical cells.

When should you get screened?

You should begin having Pap tests at age 21. Your doctor might advise you to wait three years before your next Pap test if the results of your Pap test are normal and you are in the age between 21-29. If you are in the age range of 30 to 65, your doctor may suggest just the HPV test or a combination of HPV and Pap Smear or just a Pap Smear test.
Something you should know about the result-

If your HPV test results are normal, your doctor can advise you to wait five years before your subsequent screening. If the result for co-testing, i.e, Pap test and an HPV screening is normal, your doctor might advise you to wait five years before your next screening.

If the result for the Pap Smear test is normal, your doctor might advise you to postpone your subsequent Pap test for three years. For those over the age of 65, your doctor might advise you that you no longer require screening if you haven't had a cervical pre-cancer in the past, you've had normal screening test results for several years, or you had your cervix removed as part of a total hysterectomy for a non-cancerous issue like fibroids.
What are the early warnings of cervical cancer?

-Abnormal vaginal discharge
-Bleeding between two menstrual cycles
-Pain during sexual activity

These three are all potential early warning indicators of cervical cancer. Even if a Pap test is clear, these symptoms should prompt a trip to the gynaecologist to rule out the cause of these symptoms.