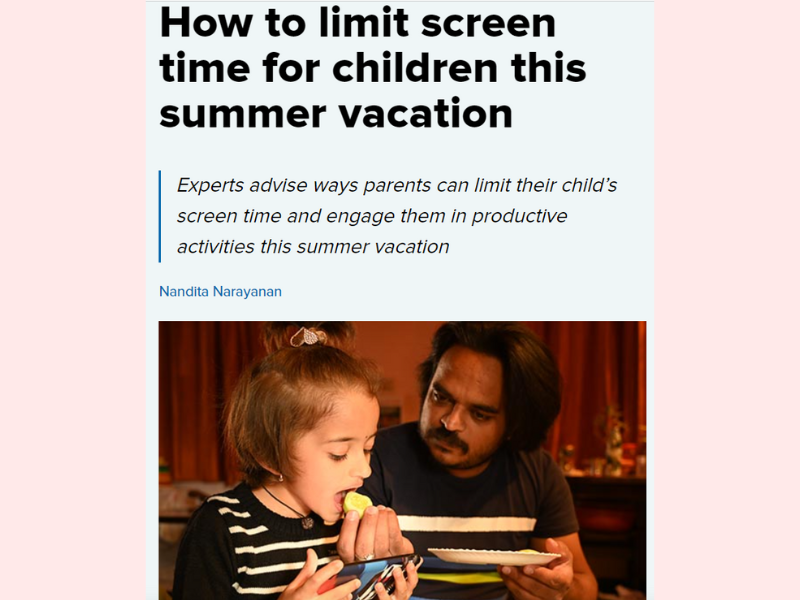 How to limit screen time for children this summer vacation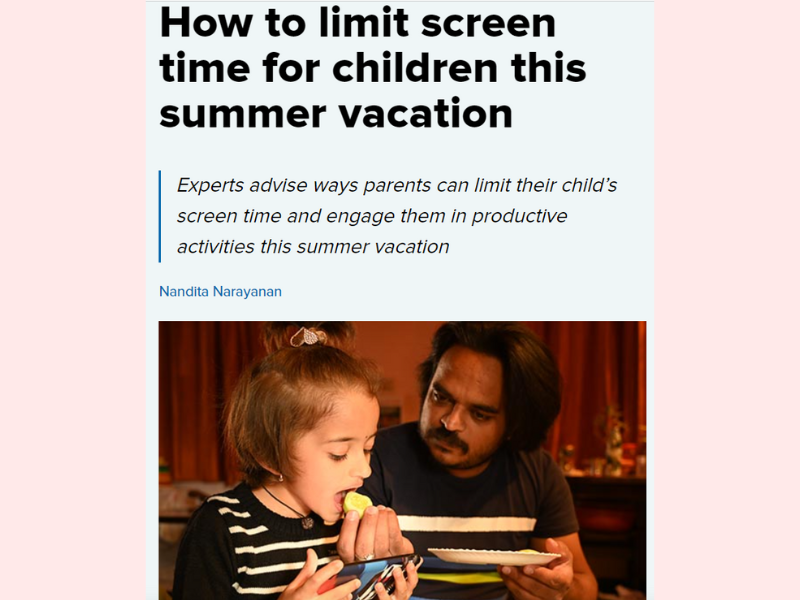 Anita Baliga, a 34-year-old homemaker from Mangaluru, nostalgically remembers her childhood summer vacations in a joint family, where she never had to worry about finding something to do. "I would usually spend my time in the backyard with my cousins, playing and having fun. It was also easier for my parents to keep an eye on us," she recalls. However, the mother of two sons, one in third grade and the other in first grade, does not see the same enthusiasm She, like many mothers wonders, how to limit screen time for children.
"Despite engaging them in extra-curricular activities outside of school, they still look forward to endlessly watching tv or playing on their phones. They get agitated if I try to stop them," she says.
Effects of extended screen time
"For children of zero to two years old, screen time must be zero, unless the phone or iPad are used for video calling," says Dr Deepa Mohan Sharma, Consultant Paediatrician and Neonatologist, Motherhood Hospitals, Bengaluru. "For children over two years, parents can set a time limit of one hour, provided they monitor content." Dr Sharma emphasises that parents need to be aware of how extended screen time can cause developmental delay in children at an early age.
"Many kids were exposed to increased screen time during the pandemic, as their parents were working from home. This was unhealthy, as it led to speech and language delays in children," Dr Sharma explains. Unrestricted screen time for older children could jeopardise their learning capabilities and cause health conditions like obesity, she warns. Experts also raise concerns about their eye health due to constant exposure.
Fun activities to limit screen time 
According to Tara Mehta, a counselling psychologist at SL Raheja Hospital in Mahim, Mumbai, when it comes to limiting screen time for children this summer vacation, it is better for parents to set a screen time limit for their children rather than being abrupt and forcing kids to stop using gadgets. "This way, the children will know how much screen time they are allowed and are engaged in activities that will help them grow during summer vacation," she says.
Experts share a plan to help parents in engaging their children during their time at home during the holidays.
"By educating the child about the details or the history of the destination they are going to, you can pique their curiosity," says Mehta. Experts advise that going to locations that can be both educational and enjoyable, such as zoos, museums and historical sites are interesting ways the child can learn outside the classroom.
Engage children in outdoor activities 
Dr Sharma advises parents to encourage their kids to do outdoor activities because it is good for their physical health. "Make sure kids enrol in summer camps or participate in sports. It's crucial to interact with kids of different ages so that they can improve their social skills as well," she says. "Even taking them to the parks and engaging them in outdoor activities will keep them active," says Mehta.
Make enjoyable and educational DIY (Do-It-Yourself) projects
Experts believe that parents can work with them to develop engaging and educational projects for their kids. "If the child is interested in outer space and galaxies, parents can use craft supplies to help them build a solar system while teaching them about it," she says.
Developing constructive hobbies 
As a result of their increased screen time, children are less likely to read as a hobby. Therefore, it is important that they inculcate such a habit by joining the library, explains Dr Sharma. She suggests making it a joint activity. "Read together and discuss the story with your child to build communication and bond." In addition to reading, Mehta adds, "Kids can pursue other interests like singing, dancing, cooking and painting or even join workshops."
Practising life skills and engaging in household tasks
Dr Sharma claims that when children help with household chores, they become more aware of their surroundings. "They can share the responsibility of cleaning the house with the parents," she says. Making children develop life skills is also important at a young age, she adds. For example, parents can take their child to the bank and teach them about money management. They can make a shopping list of fruits and vegetables and take their children to the market. "This will help them develop motor skills by allowing them to recognise the various types of fruits and vegetables, as well as their colours and textures," she says.
Using screen time for education 
Dr Sharma suggests using screen time to enhance their knowledge. "Parents can make them watch educational shows. They can also sign them up for online courses," she says.
Takeaways 
Unrestricted, unmonitored and extended screen time can lead to speech and language delays in children. 
For limiting screen time for children, doctors suggest parents engage children in productive activities during summer vacations such as sports, attending workshops, DIY projects etc, to develop their social and motor skills.
Setting appropriate time limits, especially on gadgets, can help them not feel addicted to them and spend time participating in constructive activities.