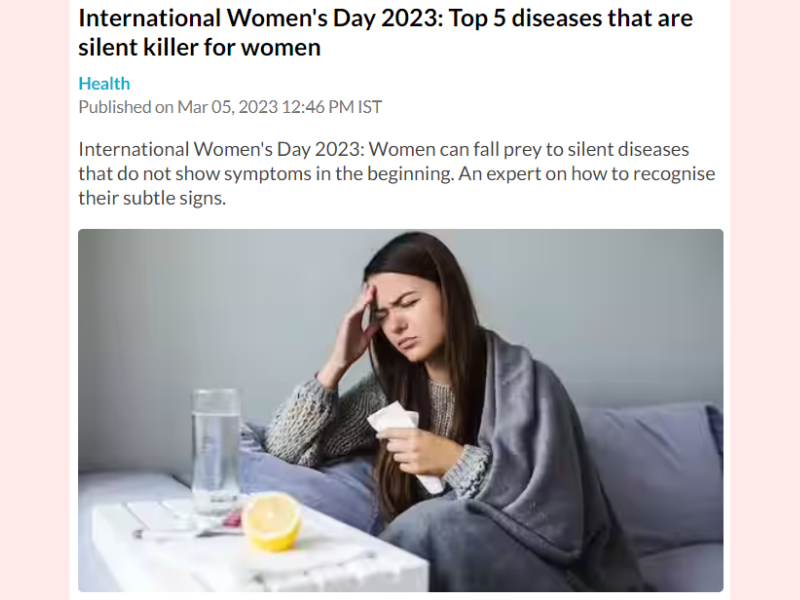 International Women's Day 2023: Top 5 diseases that are silent killer for women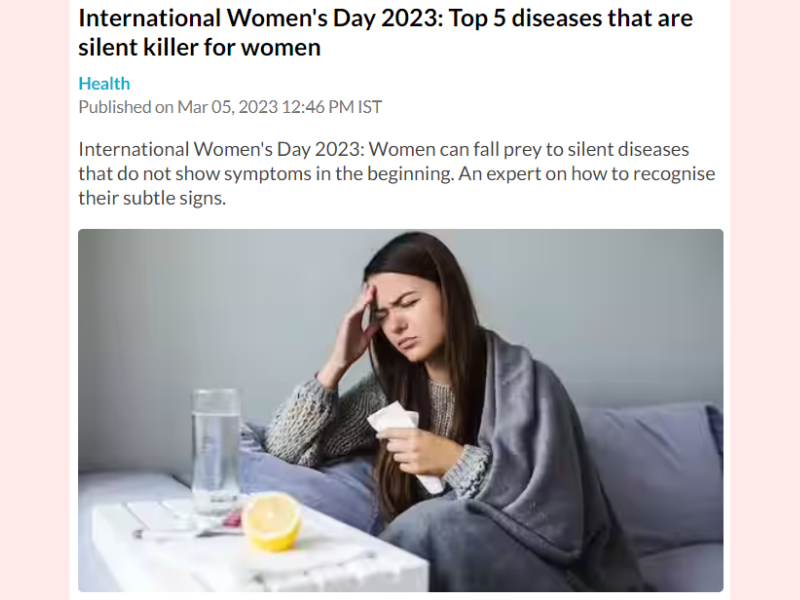 International Women's Day 2023: Women owing to their busy schedules – where they often have to strike a balance between work, motherhood and endless household duties – end up ignoring their health and fail to listen to their bodies. However, doing this can put them at risk of complications from many diseases like cardiac issues, hypertension, diabetes, liver diseases among many others that leave a silent impact on the body. These diseases do not have any symptoms initially and at a later stage, they may be difficult to manage or treat. Lifestyle issues are at the root of these health issues and the fact that many women are not able to pay attention to their overall wellness can often result in development of deadly diseases. (Also read: International Women's Day: 6 lifestyle changes for women to prevent heart attack)
International Women's Day is celebrated every year on March 8 to celebrate the achievements of women and seeking gender equality. The campaign theme of Women's Day this year is #EmbraceEquity whereas the United Nations' theme is 'DigitALL: Innovation and technology for gender equality'.
On this occasion we asked an expert to elaborate on the top 5 diseases that are silent killer for women.
"Silent killer illnesses are diseases that have little, or no symptoms yet can lead to death if left untreated. Heart disease, hypertension, and diabetes are the leading silent killers. Some lesser-known silent illnesses include mentioning a few, primary amyloidosis, renal cell carcinoma, pancreatic cancer, and hepatitis B or C infection," says Dr Shalini Vijay, Senior Consultant Obstetrician & Gynaecologist, Motherhood Hospitals, Lullanagar.
Dr Shalini says the number one silent killer illness is heart disease.
"Hypertension, smoking, a sedentary lifestyle, and high cholesterol are the key risk factors that contribute to this elevated risk," says the expert.
Let's take a look at the five potentially deadly diseases and how to recognise their subtle signs as explained by Dr Shalini.
1. Cancer of the ovaries
This dangerous condition affects one in every 75 women. What's frightening is that many women have the condition without ever realising it. The five-year survival rate is only 46%, and it might drop much lower if the cancer is not detected early. The signs of this 'silent killer' are sometimes so minor that even physicians miss them.
2. Cardiovascular disease
Women, in particular, have significantly more modest symptoms such as shortness of breath, nausea, and exhaustion. If you have a history of cardiovascular disease in your family, you are at a higher risk and should play special attention to these symptoms.
3. Lupus
Lupus is 'a chronic, autoimmune illness that can harm any area of the body (skin, joints, and/or organs inside the body)'. A 'butterfly rash' may occur on the nose or cheeks, joints may become uncomfortable and weary, and breathing may become difficult; other typical symptoms include hair loss, stomach discomfort, and migraines.
4. Diabetes
With so much information available about the hazards of diabetes, it's nearly impossible for it to go untreated. Yet, the symptoms of diabetes, particularly type 2 diabetes, can be so subtle and seemingly innocuous that problems can develop without people realising they have the condition.
5. Parkinson's Disease
Motor Neuron Disease is a neurological illness in which nerve cells degrade to the point that they are irreversibly destroyed. Patients lose all muscular capacity and eventually die as the disease progresses.