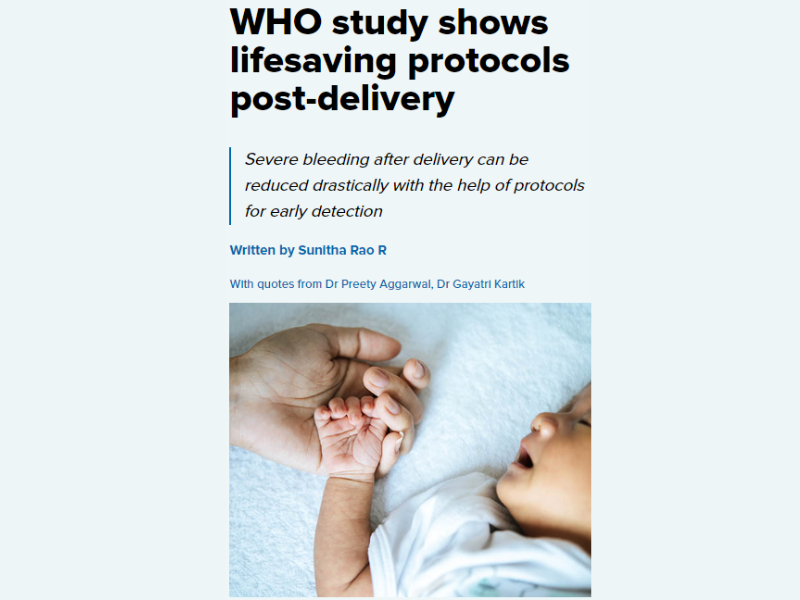 Managing postpartum haemorrhage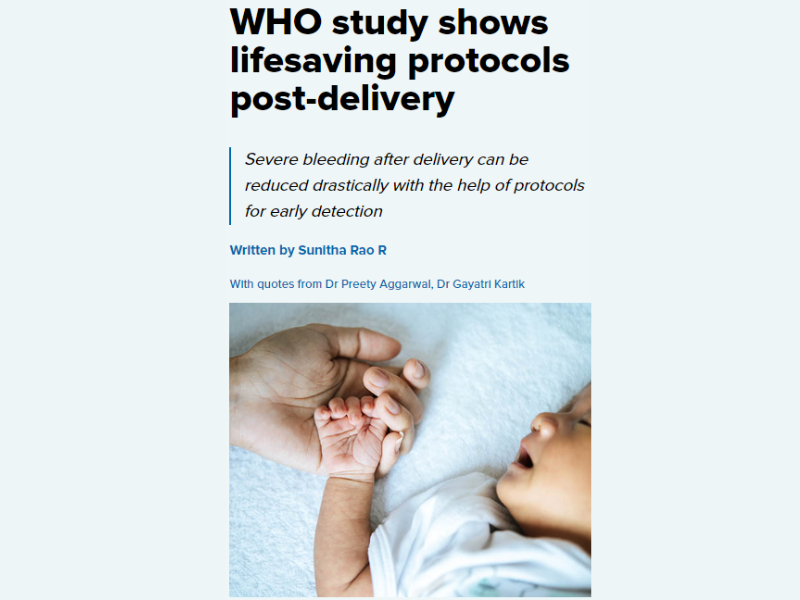 Postpartum hemorrhage (severe bleeding after childbirth) is a major contributor to maternal mortality. A trial with a set of interventions introduced by the World Health Organisation in managing postpartum hemorrhage has found a 60% reduction in heavy bleeding.
A press release issued by WHO on May 9th said that a new solution, known as E-MOTIVE, provides a major breakthrough in reducing deaths from childbirth-related bleeding. The study aiming at reducing maternal mortality caused by postpartum hemorrhage, was conducted by researchers from WHO and the University of Birmingham.
Managing postpartum hemorrhage with E-Motive
The study published in the New England Journal of Medicine on May 9th involved two lakh women. A total of 80 hospitals from four countries of Kenya, Nigeria, South Africa and Tanzania were included in the study.
E-Motive, as explained by University of Birmingham is as follows:
E-Early detection of postpartum hemorrhage
M-Massage of Uterus
O-Oxytocic drug (to prevent blood loss)
T-Tranexamic Acid (used to treat heavy bleeding)
V-IV fluids
E-Examination of the genital tract +Escalation
Following the implementation of the first response bundle E-MOTIVE in the study, "the severe bleeding (when a woman loses more than a litre of blood after birth) was reduced by 60% and they were less likely to die," WHO said.
There was also a substantial reduction in the rate of blood transfusions for bleeding, which is of particular importance in low-income countries where blood is a scarce and expensive resource.
The study mentioned that the obstetric drapes (used during delivery to measure the blood loss in a calibrated pouch) helps provide objective, accurate and early diagnosis of postpartum hemorrhage.
What is postpartum hemorrhage
According to WHO, postpartum hemorrhage (PPH) is the leading cause of maternal mortality worldwide. It is defined as the loss of more than 500 mL of blood within 24 hours after birth. "It affects an estimated 14 million women each year and results in around 70 000 deaths – mostly in low and middle income countries — equivalent to 1 death every 6 minutes," WHO mentioned in its report.
As per the published paper, a total of 210,132 women underwent vaginal delivery. As WHO explained, the study found that objectively measuring the blood loss using a drape, building together WHO-recommended treatment protocol E-MOTIVE, rather than using the treatments sequentially, resulted in dramatic, favourable outcomes. 
Dr Pascale Allotey, Director of Sexual and Reproductive Health and Research at WHO and head of the United Nations' Special Programme of Research, Development and Research Training in Human Reproduction (HRP), was quoted in the WHO's release saying that the postpartum hemorrhage is scary, not always predictable, but absolutely treatable. "Nonetheless, its impacts around the world are tragic," said Dr Allotey.
"No woman should fear for her life when giving birth," said Dr Allotey, adding that effective solutions to tackle postpartum bleeding need to be available and accessible to all.
WHO observed that most inspect blood loss visually which tends to underestimate blood loss and can lead to life-threatening delays in treatment. "When treatment is provided, this is typically done in a sequential manner with gaps between each intervention – costing more time if the first options are not effective," WHO said.
Managing postpartum hemorrhage in Indian hospitals
Happiest Health spoke to gynecologists and obstetricians in India about the study. The WHO protocol to manage PPH and prevent maternal mortality was already being used in Indian hospitals. Dr Gayatri Kartik, Head, Department of Obstetrics and Gynecology, Manipal Hospitals, Bengaluru said that the PPH is a major killer around the world but the intervention to manage it has been part of MBBS curriculum.
"The WHO study shows the importance of early detection and its help in managing PPH and preventing mortality. In India, early detection of PPH is being done in urban settings, and a similar protocol is being used," said Dr Gayatri.
Dr Preety Aggarwal, medical director, Gynecology and Obstetrics at Motherhood Hospital, Gurugram, Haryana said that PPH is a complication in childbirth, and there have always been interventions to manage it. "Different interventions are done at different levels. In fact, another drug called carbetocin is used to prevent blood loss post-delivery and it is better than oxytocin."
However, Dr Aggarwal adds that in health centres with low resources, a medicine called misoprostol is used, which can prevent bleeding soon after the delivery. "Ensuring the availability of misoprostol in all primary health centres is part of a programme to prevent maternal mortality in India. This helps in controlling the bleeding till the time the mother is shifted to a tertiary care centre for further care," said Dr Aggarwal, who is also a member of Federation of Obstetric and Gynecological Societies of India (FOGSI), Gurugram chapter.
Dr Gayatri added that Indian hospitals have been following the Active Management of the Third Stage of Labour (AMTSL), which is a critical intervention for PPH prevention.  "FOGSI has been conducting workshops to re-train doctors in AMTSL along with the training given to healthcare workers and midwives, as they play a key role in management of postpartum hemorrhage," she added.
Takeaways
A WHO collaborative study has shown that early intervention with a protocol called E-MOTIVE, in women who have undergone vaginal delivery has resulted with less than 60 % reduction in severe bleeding which can help in managing postpartum hemorrhage, a contributing factor in maternal mortality. The study included over 2 lakh women in four African countries.