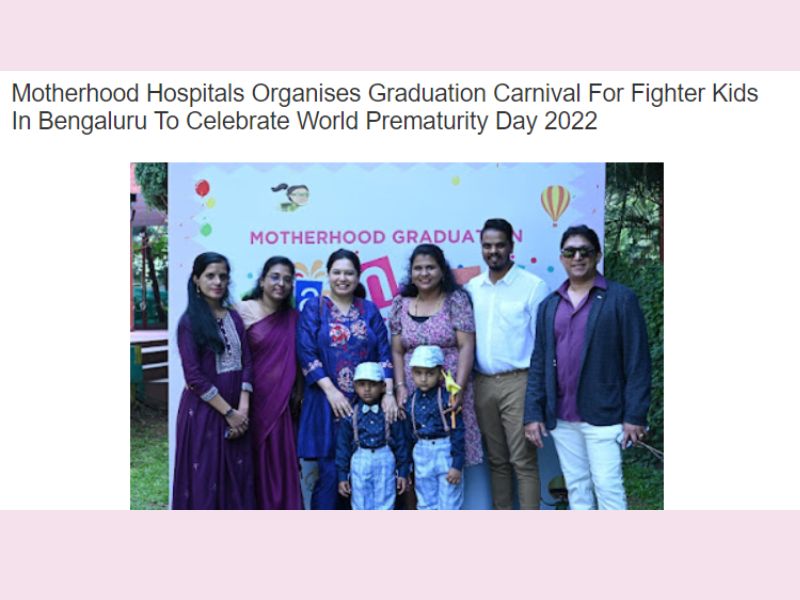 Motherhood Hospitals Organises Graduation Carnival For Fighter Kids In Bengaluru To Celebrate World Prematurity Day 2022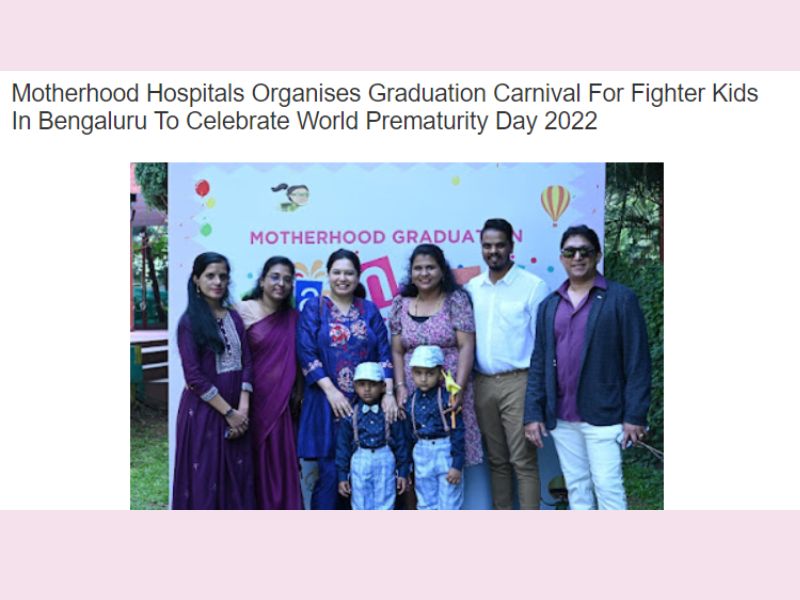 Motherhood Hospitals one of the country's fastest-growing chains of women's and children's hospitals organized a gala carnival today to mark world prematurity day. The event was held at Golden Lawn, Gate C, Jayamahal Palace, Bangalore. The carnival received a zealous response from the kids and parents and witnessed participation. The event was attended by above 200 delegates.
This unique graduation event was organized with the motive to celebrate the fighting spirit of premature new-born fighters, who have relentlessly thrived through the most delicate and precious initial days of their lives.
The Carnival included various fun activities like Tattoo artists, Caricature, Balloon Modelling, Balloon shooting, Pottery, Bouncy castle, Toy train, Carousel, Magician, Puppet show, Ball Jugglers, and tasty treats like, Popcorn stall, Cotton candy, Bombay Candy, Instant photography, Photo booth with props, Origami for both kids and parents.
Motherhood Hospitals offer the most advanced care for premature and critically ill new-borns. Throughout the carnival, kids were engaged in enjoying and exploring their creativity while also helping each other learn new things. At Motherhood, the Division of Neonatal Care aims to provide optimum state-of-the-art care for critically ill babies, as well as recovering, neonates and infants. The event was conducted keeping COVID-19 protocols of social distancing in mind.
About Motherhood Hospitals:
Motherhood Women & Children's Hospital network is India's fastest-growing single specialty hospital network with 18 hospitals in 8 cities and over 1000 leading gynecologists, pediatricians & neonatologists across the country associated with the hospital network. Recognized for its best-in-class clinical expertise and range of comprehensive women and childcare services, the leading healthcare chain has pioneered managing high-risk pregnancies, complex gynae surgeries such as fertility enhancement or uro-gynae surgeries, management of newborns with critical conditions and extremely low birth weight babies. With the largest network of over 200 Neonatal Intensive Care Unit (NICU) beds in the country, Motherhood Hospitals are acclaimed as India's best referral center for handling the most complex preterm births.