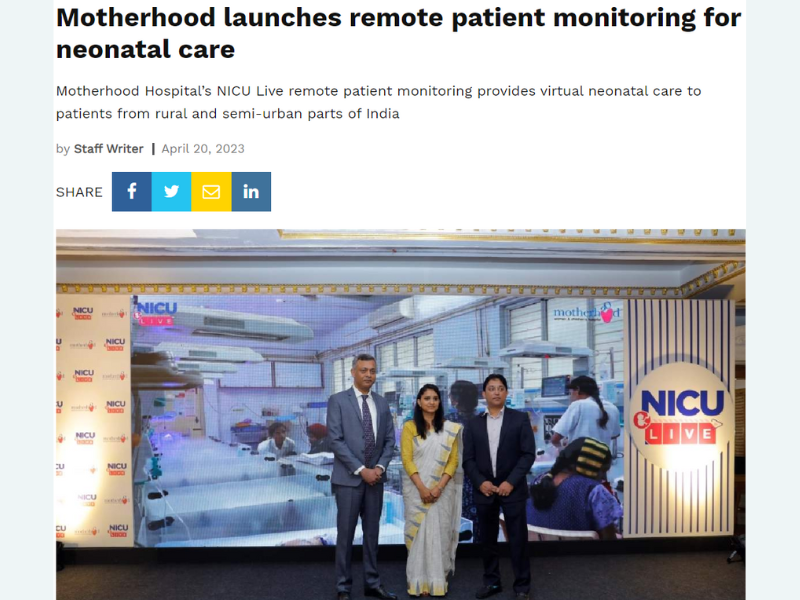 Motherhood launches remote patient monitoring for neonatal care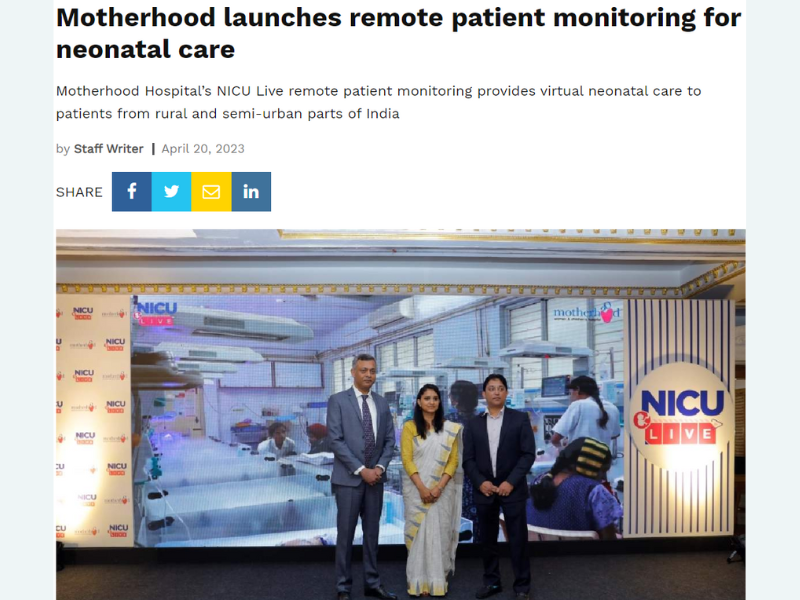 Motherhood Hospitals, a network of women and children's hospitals in India, has launched a remote patient monitoring technology called NICU Live, which provides virtual neonatal care to newborns in rural and semi-urban areas across the country. The NICU Live is based on the abbreviated form of Neonatal Intensive Care Units (NICUs). The service aims at bridging the gap between urban and rural India when it comes to availability of specialist neonatal care.
NICU Live is backed by Neonatologists and nurses. This digital telehealth service is designed to treat high-risk newborns admitted in distant Neonatal Intensive Care Units (NICUs) and has already treated 300 high-risk newborns through NICU Live in four months.
The hub-and-spoke model is centred at full-time patient management and constant medical support. The Central Care team provides 24/7 monitoring and treatment support to the remote NICU centres using high-resolution PTZ cameras that provide live video feed, a digital platform that ensures all critical information is shared digitally, and a constant communication link between the teams, thereby improving medical outcomes substantially for these newborns.
NICU Live is connected to five remote locations in India, including Anantapur, Hindupur, Madanpalle, Patna and Hisar. The service brings down the cost of a physical NICU without compromising the quality of care, besides bridging the gap in the availability of specialists. Families can look forward to immediate access to advanced NICU care in remote areas and lower medical expenses.
Vijayarathna Venkatraman, CEO of Motherhood Hospitals, said, "NICU Live is strengthening our mission of providing NICU care to the most distant parts of the country. With several new-borns in rural & semi-urban areas needing immediate NICU care, this program aims to bridge the gap and make NICU accessible to all. The technology is brilliant—what we've managed to do with it is a landmark moment in our journey to provide outstanding clinical care to newborns."
Dr Prathap Chandra, neonatologist & paediatrician at Motherhood Hospitals, added, "With NICU Live, we can now expect shorter hospital stays, better ability to deal with critical cases, and happier outcomes. From a clinical standpoint, the pilot programme has been a revelation: we're able to simplify the entire process right from admission to discharge. NICU Live's proactive interventions and guided emergency management will set benchmarks in neonatal care once we bring more hospitals into the program."