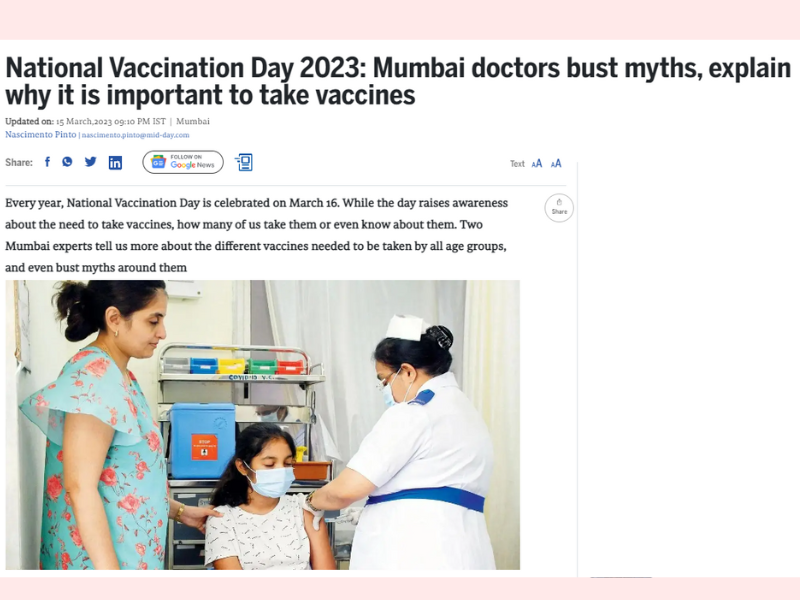 National Vaccination Day 2023: Mumbai doctors bust myths, explain why it is important to take vaccines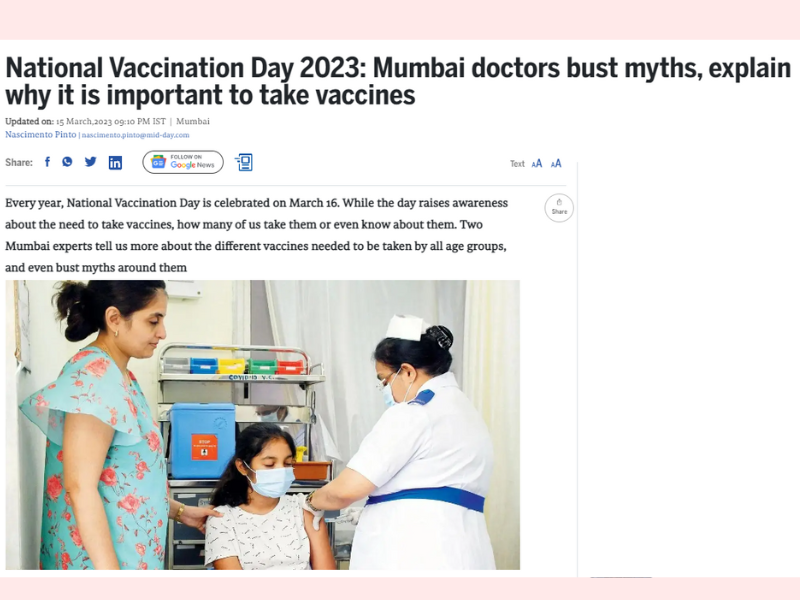 The Covid-19 pandemic in the last three years has sensitised people about the importance of getting vaccinated. While many of us are vaccinated, many others are still scared of taking vaccines due to different reasons. While it is a challenge that medical experts deal with daily, how many of us really know the vaccines we need to take regularly to stay healthy? These vaccines do not have to be taken only during childhood but also at different stages of life to protect ourselves from different health issues.
Every year, National Vaccination Day is celebrated in India on March 16. It is a day designated to raise awareness about the importance of vaccines and their role in public health. While most people do take vaccines, unfortunately, many others are against them. Medical experts say that it is important to take the flu shot, which is only one of many vaccines that people have to take throughout their lives.
Mid-day Online spoke to Dr Suresh Birajdar, neonatologist and paediatrician, Motherhood Hospital in Kharghar and Dr Vishal Parmar, consultant paediatrician, Wockhardt Hospitals in Mira Road to understand which vaccines are needed to be taken. They also stress on the need for these vaccines to be taken on time, while busting common myths associated with them.
What are the common vaccines need to be taken in India?
Birajdar: At birth, all newborn babies should receive Hepatitis B vaccine (first dose), polio vaccine and BCG (for prevention of Tuberculosis). Inactivated Polio Vaccine (IPV) is taken to reduce the risk associated with tOPV to bOPV switch. The Rotavirus vaccine (RVV) will help to tackle mortality and morbidity caused by Rotavirus diarrhoea. 
Taking a flu shot is also imperative for people of all age groups. Diphtheria-Tetanus-Pertussis, Chickenpox (Varicella), polio, and shingles are recommended by the doctor. Measles vaccine in combination with Rubella (MR) or MMR (Measles, Mumps and Rubella) is recommended for all children, after the age of 9 months.
Parmar: As we know that prevention is better than cure and when it comes to prevent a particular disease, vaccination is best scientific practice to prevent disease and boost immunity. As per latest research in India many teenagers, pregnant women, adults and old age people are still susceptible to vaccine preventable disease like flu, pneumococcal bacterial infection, typhoid, hepatitis A, measles, chickenpox, tetanus, diphtheria pertussis etc. As per Centre for Disease Control, USA, there are specific recommended vaccines for each age group given below. 
Travellers Vaccine: Tcv Typhoid, Influenza Flu, Hepatitis A, Travellers Advance, Tcv Typhoid, Influenza Flu, Hepatitis A, Hepatitis B, Meningococcal, Tdap, MMR, Chicken pox. 
For 10 to 18 years: Tdap vaccine, Influenza Flu Vaccine, HPV vaccine, eningococcal, Pneumococcal (MMR, Chicken pox, Typhoid and Hepatitis A if previously not taken).
For 18 to 26 years: Influenza Flu Vaccine, MMR, Chicken Pox, HPV vaccine (female), Pneumococcal Tdap, Hepatitis A and Hepatitis B, Meningococcal Vaccine. 
For 27 to 50 years: Influenza Flu Vaccine, MMR, Chicken Pox, HPV vaccine (female less than 45 years), Pneumococcal, Tdap, Hepatitis A and Hepatitis B Zoster Vaccine. 
For 50 to 65 years: Influenza Flu Vaccine, MMR, Pneumococcal, Tdap, Hepatitis A and Hepatitis B
Over 65 years: Flu Vaccine, Pneumococcal, Meningococcal, Herpes, Tdap, Typhoid and Hepatitis A. 
It is highly advisable to get yourself vaccinated earliest to live fit, healthy and disease-free life. 
What are the common myths surrounding them? 
Birajdar:
Myth: Getting vaccinated can make you feel sick
Fact: Few people can experience mild side effects after getting vaccinated, such as soreness at the injection site, body pain or a low-grade fever. It is important to remember that these symptoms will go away within a day or two. Do not panic or avoid getting vaccinated.
Myth: It is okay to delay vaccination until the pandemic gets over
Fact: Delaying vaccination can be dangerous to one's health and the health of the entire community.
Myth: Taking flu vaccine can help keep Covid-19 at bay
Fact: There are no studies available as of now to prove that the flu vaccine protects against Coronavirus. Hence, it will be imperative for one to get the vaccine for flu and even Covid-19. 
Parmar: 
Myth: Vaccines are made of toxic substances
Fact: Any substance including water can be harmful when taken in huge amounts. Some vaccines contain ingredients such as formaldehyde and aluminum, but these trace amounts are not high enough to cause any issues. If you have an allergy to any of the ingredients in the vaccine then you need to consult the expert who will guide you regarding what to do.
Myth: I don't need to get vaccinated as others around me are already protected due to vaccination
Fact: Getting vaccinated means not only protecting yourself but even the people around you. Most vaccine-preventable diseases are known to spread via person-to-person contact. When one person in a community gets the disease, it can easily spread to others and can take a toll on the entire well-being. It is better to get vaccinated and prevent the disease from spreading to others.
Myth: Vaccines are not needed at all
Fact: Many people believe that vaccines are unnecessary as long as good hygiene is maintained (this includes drinking clean water, nutrition and sanitation) to prevent any disease. You will be shocked to know that dangerous infectious diseases like whooping cough and measles can reappear and give one a tough time. It is better to get vaccinated along with maintaining good personal hygiene.