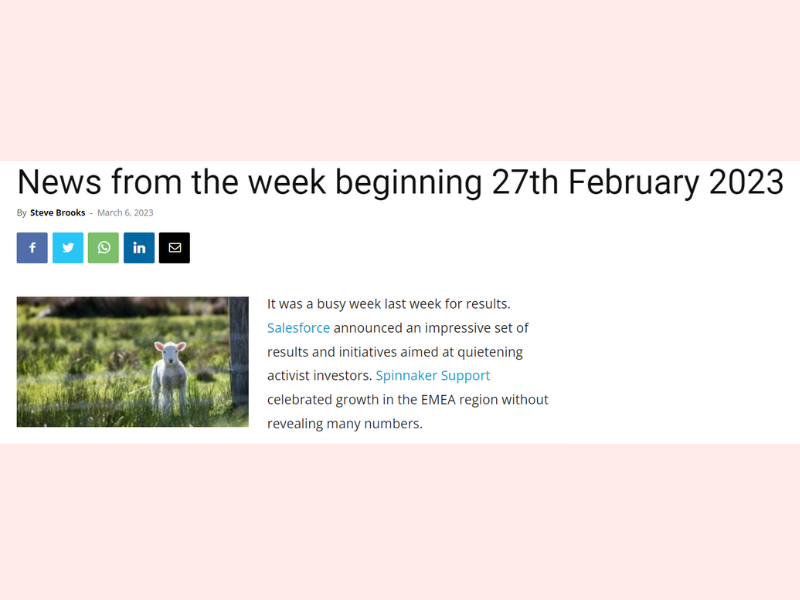 News from the week beginning 27th February 2023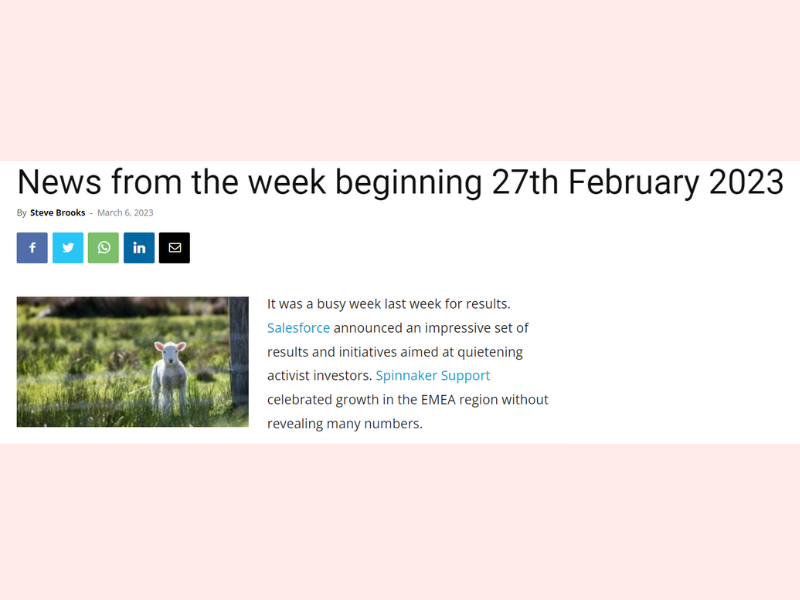 It was a busy week last week for results. Salesforce announced an impressive set of results and initiatives aimed at quietening activist investors. Spinnaker Support celebrated growth in the EMEA region without revealing many numbers.
Qlik announced its Connector Factory, which will churn out application integration connectors. Cleo has published its fourth annual State of Ecosystem Integration Report.
Ramp raised $5 million to support the growth of its revenue forecasting solution. Quantexa has announced the acquisition of Aylien, a provider of AI-Based Risk & Market Intelligence Solutions. Accounts Payable automation vendor Medius has promoted Henrik Rosén to Chief Technology Officer (CTO).
Appointments
Conexiom has announced that the company's Board of Directors has appointed John McNeill as Chief Executive Officer.
Mindtickle appointed Eric Anderson as its new President, Go-to-Market.
Nintex announced the appointment of Amit Mathradas as Chief Executive Officer.
SAS appointed Jean de Villiers as its new head of analytics in Ireland.
Syncro announced the appointment of Gerry Rice as Chief Financial Officer, Macall Gardner as Director of Technical Support and Kristen Costagliola as Chief Product and Technology Officer.
Zendesk announced the appointment of Julie Swinney as Chief Financial Officer.
Business
Achievers launched a give-back initiative in recognition of its annual Employee Appreciation Week (February 27 – March 3) celebration. Through the Achievers Rewards Marketplace, employees can make charitable donations to over a million registered charities globally. All employees are invited to participate in the campaign by donating points earned through the Platform to a charity they choose.
Creatio announced partnerships with Cornerstone Paradigm Consulting and with Zime.
Deloitte unveiled a new collaboration as part of its Sustainable Systems Initiative with RMI, founded as Rocky Mountain Institute, a leading nonprofit dedicated to accelerating the global energy transition. The collaboration is marked by the release of a report, "Systems Transformation for a Sustainable Future," that helps guide businesses on adopting systems thinking to urgently drive corporate climate action.
Infosys announced a strategic collaboration with ng-voice GmbH, the leading provider of cloud-native IP Multimedia Subsystem (IMS) solutions. Infosys will provide systems integration services for ng-voice through a global delivery model facilitating telecom operators with digital capabilities to deploy fully containerized and cloud-native network solutions across Europe.
Pyramid Analytics and the auditing and consulting firm PwC Germany have signed a partnership agreement to distribute and implement the Pyramid Decision Intelligence Platform.
Salesforce published its 2023 equality update in a blog by Lori Castillo Martiness, Chief Equality Officer.
Software AG and SV Darmstadt have agreed to an early contract extension through June 2028. After more than a decade as the main sponsor – and thus jersey sponsor – of the club, Software AG will be stepping down from this role by the 2024/25 season at the latest. However, the software solution provider will continue to be a premium partner of SV 98.
Customer
Accenture Federal Services has won a five-year, $628 million recompete of a contract award from the US Centers for Medicare and Medicaid Services (CMS) to continue its work supporting Healthcare.gov.
Penningtons Manches Cooper has selected the Aderant Expert Sierra cloud-based practice management system (PMS).
Rogue Community College (RCC) has selected Jenzabar's cloud enterprise resource planning (ERP) solution to modernize key parts of its operations, consolidate its technology footprint, and drive institutional and student success.
Sagicor Bank Jamaica, the third largest commercial bank in that country, will implement Newgen's Retail Loan Origination Solution.
LanguageLoop has implemented NICE's CXone cloud-native platform to futureproof its customer experience operation and deliver an enhanced customer and user experience.
Alameda County (CA) District Attorney's Office in California, one of the most populous counties in the United States and home to the city of Oakland, will be deploying NICE Justice, one of the solutions in NICE's Evidencentral platform, to digitally transform how it manages evidence.
o9 is expanding its strategic partnership with Marelli, a leading automotive supplier, to implement an advanced and automated Sales, Inventory and Operations Planning (SIOP) process globally by deploying the o9 Digital Brain platform at the company's production plants.
Vivo, the Brazilian branch of Telefónica, is migrating essential data and processes from its data centre in Campinas, São Paulo, to Oracle Cloud Infrastructure (OCI) to reduce IT costs and accelerate new service offerings.
AT&T Mexico is moving critical IT and business processes to Oracle Cloud Infrastructure (OCI) to expand the benefits of mobile internet to more than 21 million subscribers and business customers in industries such as education, health and banking nationwide.
KDDI Corporation, one of Japan's top three telecommunications carriers and the operator of the "au" mobile phone service, has chosen Oracle Database to modernize its online payment brand, au PAY, and customer loyalty program, au Ponta Points Program.
Bromcom has deployed the Hire2Retire solution from RoboMQ to manage its employee profiles and save time and money. The solution provided an end-to-end integration between BambooHR and Azure AD.
Financial Reports
SD Worx
SD Worx announced its 2022 results. Total revenue rose 12.1% to €962.1 million. EBITDA (earnings before interest, taxes, depreciation and amortization) grew 18.3% to €136.7 million. It achieved net profits of €81 million.
Kobe Verdonck, CEO of SD Worx, commented, "We are very satisfied with the year 2022. Our activity is doing very well: the turnover of the 'payroll and compensation process management' part increased by 19% in 2022. The turnover of our workforce management offerings increased by almost 16%.
"However, the expected growth around labour market flexibility, which is generally under pressure, has not materialized. For this activity, we report a slight decrease. In general, times are difficult due to the geopolitical context and the rise in energy prices and inflation. The talent war also plays a role, even though we welcomed 1,500 new employees last year. In doing so, we continue to invest in our sustainable growth.
"SD Worx has grown rapidly in recent years to become a recognized European player in the HR sector, enabling us to offer our customers more and better local and international solutions. SD Worx has achieved a unique position in the market, with a local presence in 26 countries and expertise in the various payroll and HR legislations. Thanks to our committed staff and our loyal customers, we have succeeded, and I would like to thank them.
"In 2023 and the coming years, we will continue to invest massively to further relieve our local and international customers from small to large companies, with digitalized solutions supplemented by a personalized service with high added value. It is thanks to our customer approach and our local presence, combined with an international offer that we make the difference."
Syniti
Syniti announced its financial and company highlights for the fourth quarter and fiscal year 2022. The company shows continued strong growth in services, with services bookings up nearly 70% in the final quarter of the year, positioning the company well for continued services revenue growth in 2023.
Kevin Campbell, CEO of, Syniti, said: "It's clear that 2022 brought a myriad of continued challenges, with rising inflation, global disruption and the resulting economic slowdowns. We do see additional scrutiny on projects, yet clients continue to invest in digital transformation projects and data is at the core for enabling future revenue and bottom-line growth.
"I am particularly pleased with a number of selections and signings in Q4 by the world's biggest companies for our newly released cloud-native SAP Advanced Data Migration & Management by Syniti platform, which is also sold directly by Syniti as the Syniti Knowledge Platform."
TigerGraph
TigerGraph published a business update for 2022. It revealed significant momentum in 2022, fueled by business growth, technical innovation, and more. It did not reveal revenue growth, but customer growth during the year was over 100%.
Yu Xu, CEO and founder of TigerGraph, commented, "TigerGraph helps today's businesses find competitive insights in their data – insights that significantly impact their bottom line.
"Our customers – data-driven organizations in nearly every industry – continue to reap the rewards of graph and AI as we continue to innovate. TigerGraph pioneered the scalable graph data platform for AI, and our market leadership speaks for itself with consistent industry recognition for product innovation."
Tipalti
Tipalti gave a business update, announcing its 2022 results. Last year, the global payables solution provider grew its overall customer base to more than 3,000, helping total transactions soar by 50% for a total payments volume of $43 billion. Its UK solution, launched in 2021, contributed to this growth, with more than 100 new customers signed since inception. It also celebrated a 98% retention rate.
Chen Amit, co-founder and CEO of Tipalti, commented, "2022 was a year that challenged companies around the globe, forcing many to reorganize their priorities and reassess their goals. In response, we honed in on how our products could better serve our customers struggling with the current economic realities. As a result, we continued to grow as a company and win market share.
"We doubled down on our commitment to our customers and put them at the center of our business. As we enter 2023, we will continue to make them a priority by introducing innovative solutions they need to thrive throughout these challenging times." 
Product
Appen announced the launch of three new products designed to enable clients to unlock generative AI and power exceptional customer experiences with our industry-leading products, depth of expertise and unmatched global team of AI Training Specialists. These products are Reinforcement Learning with Human Feedback, Document Intelligence and Automated NLP Labeling.
Fivetran announced three new offerings that make Fivetran the most comprehensive and complete enterprise-grade platform for automated data movement. The three are Fivetran High-Volume Agent (HVA), Fivetran Private Deployment and AWS GovCloud Support.
Ivanti announced the expansion of Ivanti Advantage Learning as part of its ongoing commitment to providing a superior experience for customers and partners.
AT&T Inc and ServiceNow announced a global telecom product to help communications service providers (CSPs) manage 5G and fibre network inventory. AT&T provided strategic design and technical guidance for the development of the ServiceNow Telecom Network Inventory, which is built on the ServiceNow Platform and available for telcos globally today.
Informatica launched the industry's only free cloud data loading, integration and ETL/ELT service – Informatica Cloud Data Integration-Free and PayGo. The new offering targets data practitioners and non-technical users in marketing, sales, and revenue operations teams, to build data pipelines within minutes.
Infosys announced the roll-out of Private 5G-as-a-Service to accelerate business value for its enterprise clients worldwide. Infosys' Private 5G-as-a-Service delivers a simple and flexible pay-as-you-go solution for clients.
Infosys announced that it had signed an MoU with Motherhood Hospitals, a speciality hospital chain providing women and child care, to digitally upskill learners in the healthcare sector through Infosys Springboard.
Jotform unveiled the Jotform Enterprise Mobile app.
KNIME announced early access to KNIME Analytics Platform Version 5.
Pega announced plans to extend its use of AI in its platform with new generative AI capabilities across Pega Infinity. Powered by generative AI models like those behind OpenAI's ChatGPT, Pega is designing these features to enable users to use generative AI with enterprise governance to complete tasks using simple natural language prompts – from "generate a report" to "refine this offer copy" to "build an application."
Qualtrics announced the availability of the Retail Banking Accelerator to make it easy for financial services organizations to adopt the Qualtrics Foundational Customer Experience (CX) solution.
QuickBase announced new product capabilities and enhancements to help organizations make smarter business decisions and successfully deliver highly complex projects faster.
Rockset announced a new release that isolates streaming ingestion from low-latency queries for real-time data applications. Just like compute-storage separation was a game-changer for cloud data warehouses, compute-compute separation for real-time analytics unlocks new efficiencies in the cloud. It eliminates compute over-provisioning by allowing either streaming ingest or query serving to be scaled up and down independently. It also enables multiple isolated applications on shared real-time data without the need for multiple replicas.
Salesforce launched the Hyperforce EU Operating Zone, enabling global customers to store and process their data in the European Union. The Hyperforce EU Operating Zone combines Salesforce's industry-leading products with 24/7 customer and technical support delivered by EU-based personnel.
Salesforce also announced new product suites for sales and service teams, combining best-in-class solutions across Customer 360 to help any company unlock cost savings and create exceptional customer experiences.
Seismic announced its Winter 2023 Release. It is packed with enhancements to drive greater enablement and operational efficiency. Features include GPT integration for knowledge, AI-Powered sentiment analysis for coaching, streamlined content management, requests and text and image replacement in guided assembly.
SalesAgility released SuiteCRM 8.2.4, 7.13.2 & 7.12.10. They are security and maintenance releases.
Talend announced the latest update to Talend Data Fabric, its end-to-end platform for data discovery, transformation, governance, and sharing. Winter '23 introduces advanced capabilities and enhancements to simplify and automate cloud migrations and data management, expand data connectivity, and improve data visibility, quality, control, and access.
TigerGraph announced the latest version (3.9) of TigerGraph Cloud, the industry's first and only native parallel graph database-as-a-service, including powerful new security, advanced AI, and machine learning capabilities that meet the demands of its rapidly growing customer base and streamline the adoption, deployment, and management of the most scalable graph database platform.
XCD launched XCD Shout Out, a new peer-to-peer employee recognition solution. XCD Shout Out was created to enhance employee experience by providing an easy-to-use platform for sharing and receiving employee recognition. With Shout Out, anyone in your organisation can recognise a colleague for their hard work. It works in any direction: anyone from the freshest-faced intern to the CEO can acknowledge someone else within the business.