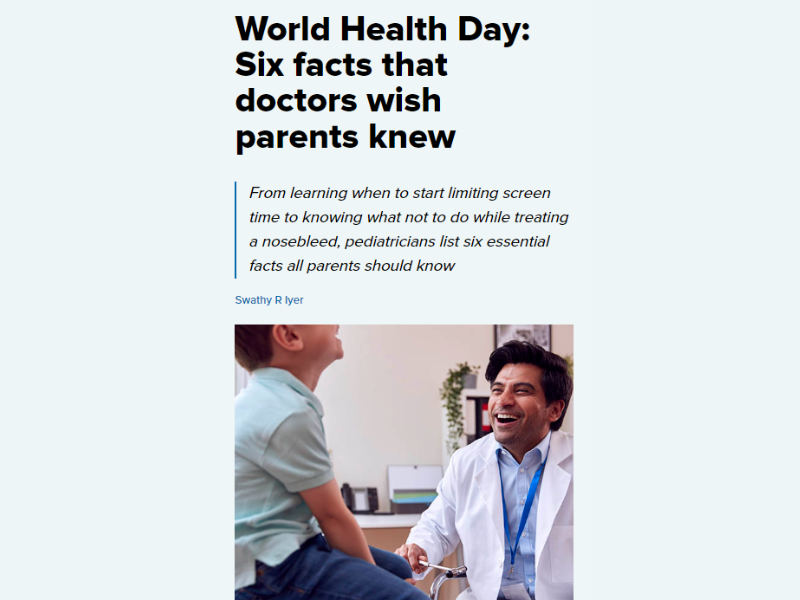 World Health Day: Six facts that doctors wish parents knew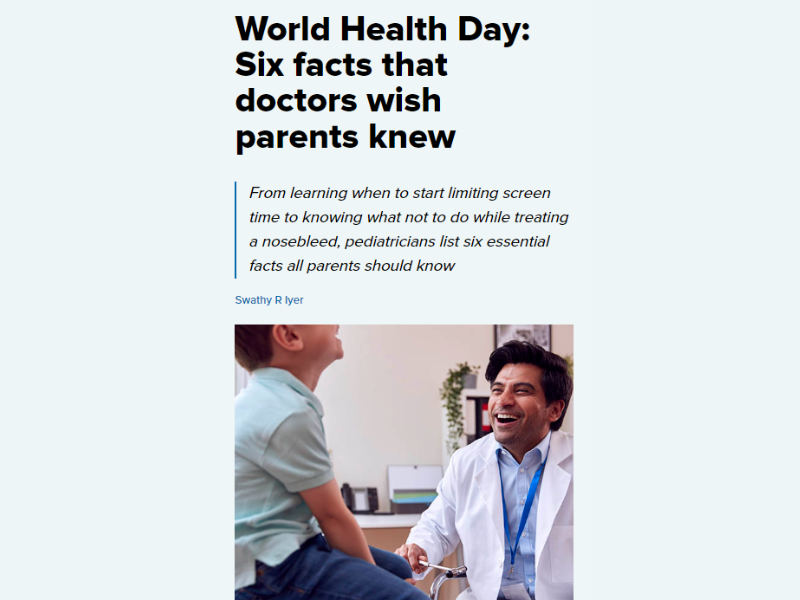 Parenting can be a challenging experience. Apart from handling the daily parental duties, navigating through the barrage of information available out there can become overwhelming. On this World Health Day, Happiest Health spoke to pediatricians who listed six essential facts which they wish all parents knew.
Oral hygiene must start before first tooth appears
Many parents make the common mistake of ignoring tooth decay in its early stages, especially in babies. Good oral health habits must start even before the first tooth appears, say pediatric dentists.
"As soon as the child is born and the mother starts breastfeeding the baby, we recommend cleaning the baby's gum pads with a soft cloth that has no hanging threads. After every feed, they can put two to three drops of water to flush out the oral cavity," says Dr Sheen Ann John, a pedodontics and preventive dentistry specialist at Dental Studio, Thiruvananthapuram, Kerala.
Nosebleeds: Don't make the child lean back
Nosebleeds are common among children and it is important for parents to know how to treat it correctly. A common mistake, doctors point out, is asking the child to lean back to stop the bleeding.
Dr Elizabeth Clayborne, CEO and founder of NasaClip, emergency physician and a faculty member at the University of Maryland School of Medicine, Baltimore said, "They are often unsuccessful in dealing with a nosebleed because they are pinching the wrong part of the nose, tilting the head back instead of forward or unable to hold constant pressure for the right amount of time," she says.
Doctors recommend asking the child to lean forward to prevent the blood from entering the throat and choking them. Also have the child clear the clots in the nose by blowing out any clotted blood.
Learn CPR to help your child in an emergency
Although parents keep an eye on their toddlers to prevent accidents and mishaps, experts recommend learning basic CPR (Cardiopulmonary resuscitation) techniques, to save the child before emergency help arrives.
"I educate all parents about learning CPR as it is a lifesaving procedure," says Dr Sindhura Munukuntla, pediatrician, Yashoda Hospitals, Hyderabad. This advice helped a parent, from Bengaluru, who was able to save her baby's life. The baby, left unattended for a minute, fell into a small indoor, inflatable pool. The mother immediately took the baby out of the pool and performed CPR before going to a hospital. Dr Munukuntla recalls how the child got better and the mother later told her that the CPR lesson helped her save her child. To learn how to perform CPR, click here.
Screen time must be zero for children below age two
Dr Upendra Kinjawadekar, president, Indian Academy of Pediatrics says that it is very important to make sure you're not exposing your child to any sort of screen time in the first two years. "From the age of two to five, parents can consider limiting the screen time to about an hour or so everyday," he says.
Studies have shown that screen use before the age of two years can affect the child's cognitive skills.
Dr Deepa Mohan Sharma, Consultant Pediatrician and Neonatologist, Motherhood Hospitals, Bengaluru says "Many kids were exposed to a lot of screen time during the pandemic, as their parents worked from home. This was unhealthy, as it led to speech and language delays in children."
Dr Sharma adds that extended screen time not only affects children's eyes and learning capabilities but can also lead to conditions like obesity.
Accidental ingestion: First aid, hospital visit a must
Children usually end up in pediatric emergency wards after ingesting tiny objects like button batteries or parts of toys. Medical help must be sought in all of the cases, even if sometimes, depending on the nature of the foreign body swallowed, it will get expelled via stools. It may either go into the child's windpipe or into the stomach. Left untreated, the object stuck in the windpipe can lead to repeated infections and pneumonia.
When you notice that your child has just swallowed a tiny object and is choking, rush to emergency care where the airway can be cleared by medical staff. To find out how you can save a child who is choking, click here.
Fruit juice is not good for your child
Dr Kinjawadekar says that being mindful of your child's diet is one of the most important parental duties. "People often do not know which food is healthy and which isn't. Fruit juices are one of the worst things you can give your child since it has no fiber and it is high in sugar content. You can give them whole fruits instead. Fruit juice is a strict no-no."
The American Academy of Pediatrics in fact recommends that children under the age of one should not drink fruit juice.