Advantages Of Music Therapy for General And Mental Health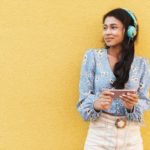 Advantages Of Music Therapy for General And Mental Health

Author: Dr. Shweta Nayak MBBS, DNB(OBG), MNAMS, CCGDM, KISAR Fellowship in Infertility, Fellowship in Basic Ultrasound
Consultant:  Obstetrician & Gynaecologist at Motherhood Hospital Mysore
Music therapy can be a beneficial and pleasurable way to lessen the symptoms of many ailments, including depression, mood swings, and anxiety, even if it cannot treat any mental health conditions. Through music therapy, people can communicate their feelings and experiences in a special and approachable way. Ancient civilisations had a strong musical tradition, which is present in all cultures today. However, music is now understood to be essential to overall health and wellbeing. Our brains release dopamine and serotonin when we listen to energetic, enjoyable music, which makes us feel happy. On the other side, quiet music encourages peace and relaxation.
Music is a universal human trait. The healing power of music has been acknowledged in almost all traditions of music. Music therapy is moving from a social-science model focusing on overall health and well-being towards a neuroscience model focusing on specific elements of music and its effect on sensorimotor, language and cognitive functions. A handful of evidence-based music therapy studies on psychiatric conditions have shown promising results. 
Music therapy is an evidence-based treatment that helps with a variety of disorders, including cardiac conditions, depression, autism, substance abuse and Alzheimer's disease. It can help with memory, lower blood pressure, improve coping, reduce stress, improve self-esteem and more.
Music therapy may help you psychologically, emotionally, physically, spiritually, cognitively and socially. When used in conjunction with conventional therapies like talking therapy, research demonstrates that music therapy is effective in reducing the symptoms of depression. Dopamine, a hormone released by music, and endorphins both contribute to the "feel good" emotions that people experience. It also helps to encourage self-expression, improves social connection, and enhances the mood of patients. 
Music helps people feel more confident, relaxed, and emotionally healed. Additionally, music can help those who have endured traumatic events and can aid people in managing pressure and stress.
Helps with anxiety
Reduces stress
Improve symptoms of depression
Improves cognitive functions and delays Alzheimer's
Promotes emotional wellness 

People have listened to music for a very long time because it can have a good effect on their moods and emotions. Music therapy has many other benefits in addition to helping with mental health difficulties, such as providing a creative outlet, strengthening education and cultural awareness, and improving cognitive skills like memory.
Many therapies can help individuals improve their emotional growth, social skills, and motor control. Music therapy is no exception to these benefits. Some may say music therapy goes a step beyond normal therapies by helping to change the brain. Music can retrain certain cognitive abilities and promote behavioural changes. But, as great as this all sounds, music therapy does have its cons. Music does have a powerful impact on our emotions and our physical health.
At Motherhood Hospitals we have a team of experienced supers specialists backed by the latest infrastructure and facilities. We have the best gynaecologist in Indore. We are experts in handling complex deliveries, gynaecological, and other surgeries, including various laparoscopic surgeries. 
Do make an appointment with the best womancare hospital in Indore at a centre closest to you. Meet with our doctors, who will carry out the required investigations, diagnose the issue and recommend the most appropriate treatment, enabling you to lead an active life. 
If you wish to get in touch with Dr. Archana Dubey, please book your appointment here.
Stay update don our latest packages, offer, news, new launches, and more. Enter your email to subscribe to our news letter
SUBSCRIBE
TO OUR NEWS LETTER