What are the 5 things to do when you find out you're pregnant?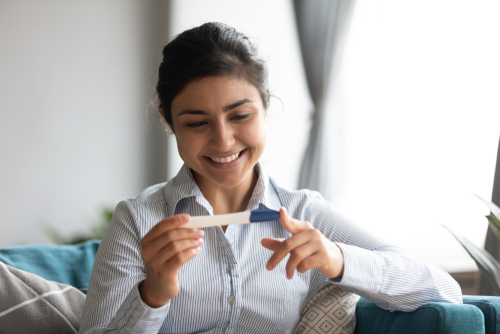 What are the 5 things to do when you find out you're pregnant?

The pregnancy test result says it's positive, and now you don't know what to do? Suddenly, a multitude of emotions engulf your mind and heart. While the emotions of approaching parenthood will keep you elated, doing the top five things mentioned below will help you prepare, stay healthy, and have the best pregnancy you can!
1. Talk to/visit your doctor/gynecologist: While most pregnancy tests are often accurate, it is always better to confirm the pregnancy if necessary. The specialist will enlighten you with some very basic yet important things which you would need to take care of throughout your pregnancy.
2. Start taking a prenatal vitamin: Supplements that contain folic acid and an omega-3 of DHA are important to the baby's brain health and help with visual and cognitive growth, respectively.
3. Quit smoking and alcohol: Protecting the baby from tobacco and alcohol gives your baby the best chance of a healthy start in life.
4. Exercise and get adequate rest: It is important to stay healthy and workout while you are pregnant! Also, make sure your body gets enough rest.
5. Follow your and your baby's development: It is a good idea to document the progress of your baby. For yourself, you can take a lot of pictures to go along with documenting your pregnancy.
Book an appointment at Motherhood Hospitals. It offers a complete birthing experience to couples by hand-holding them through their journey towards parenthood. With the highest standards of clinical competency, backed by state-of-art technologies and proven protocols, Motherhood is committed to offering the best outcomes for the mother and child.
Services we offer:
Comprehensive pregnancy care by a team of highly experienced obstetricians/gynecologists, high-risk pregnancy care, 3D/4D ultrasound, anomaly early pregnancy scan, NT scan, anomaly scan , growth scan, pregnancy tests and vaccinations, maternal-foetal medicine, antenatal care, diet and nutrition by clinical dietician, exercises for pregnancy by experienced physiotherapist, antenatal workshops, Lamaze, lactation counselling, postnatal nutrition, postnatal fitness, 24x7 emergency care
Stay update don our latest packages, offer, news, new launches, and more. Enter your email to subscribe to our news letter
SUBSCRIBE
TO OUR NEWS LETTER