World Prematurity Day?? A miracle in 29 weeks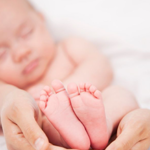 World Prematurity Day?? A miracle in 29 weeks

Pregnancy is the most magical time for all mothers to be. This nine-month period is that time where all mothers are anxious and excitedly awaiting the birth of their precious child. This period, however, was extremely short-lived for Priya. When she was in her 29th week of pregnancy; Priya saw some spotting and immediately knew something was wrong. She was admitted to the hospital and had to give birth to her child when she was just seven and a half months into her pregnancy.
Technology to the rescue
Thanks to the technological advancements, there are methods to mature a premature baby, and Motherhood's Neonatal Intensive Care Unit (NICU) provides exactly that to the concerned parents of a preterm baby. Along with world-class respiratory equipment, monitoring equipment, feeding tubes, incubators and phototherapy, Motherhood's NICU also offers the love and care every premature baby needs to grow and develop into a healthy and fit little one, ready to conquer the world.
Our level 3 Neonatal Intensive Care Unit (NICU) is equipped to care for and nurture the tiniest and sickest of newborns. The well-qualified staff consists of world-class neonatologists, neonatal nurses and respiratory therapists who specialise in the care of newborns. Apart from caring for premature babies, the NICU unit also caters to babies born with serious illnesses.
The unique case of Priya
When Priya concieved, she was also undergoing treatment for had polycystic ovary syndrome. She was admitted midway through her pregnancy because the baby's heartbeat was falling and there was less fluid around the baby. Furthermore, the placenta, an organ that develops in the uterus during pregnancy, had completely separated. It is the placenta that supplies oxygen and nutrients to the growing baby and takes away waste products from your baby's blood. This complication called for an immediate C-section.
Most premature kids are born before 37 weeks instead of the usual 38 to 42 weeks, and Priya's case was further complicated as her gestation period was just 29 weeks. The vital organs of the baby mature only between week 29 and 30. So when Priya gave birth, the baby weighed just 1kg 220gm and had to be given special care for over a month at the NICU as the baby had Respiratory Distress Syndrome.
Dr Prashanth Gowda was the primary consultant and ensured that the baby and the mother received the best care and treatment. After rigorous medical care, the baby was finally discharged on 9/7/2017 and is doing extremely well. They are in perfectly good health now, and the parents are well satisfied with the NICU team and the services of Motherhood hospitals.
Stay update don our latest packages, offer, news, new launches, and more. Enter your email to subscribe to our news letter
SUBSCRIBE
TO OUR NEWS LETTER