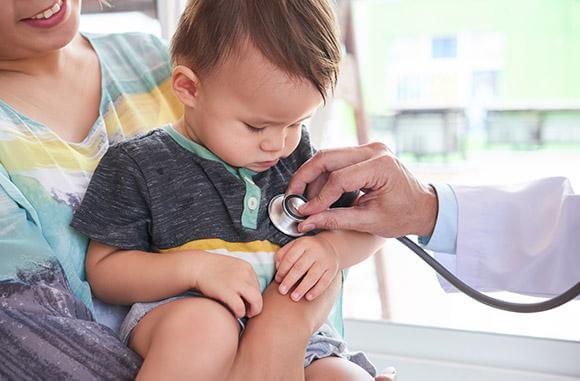 What is paediatric endocrinology?
Paediatric Endocrinology involves diagnosis, prevention and treatment of children and adolescent populations with endocrinological conditions. The science of Paediatric Endocrinology specializes in the prognosis and treatment of the disorders of the endocrine glands. Dr Venkatachalapathy, a notable paediatric surgeon, explains paediatric endocrinology and its conditions.
The disorders of the endocrine system may include:
Disruptions in physical growth and variations involving lack of physical and sexual development in childhood
What are the objectives of a paediatric endocrinologist?
The objectives of a paediatric endocrinologist include:
understanding the anatomy and functionality of the endocrine system
Identifying the endocrinological diseases linked to the environment
Discovering the chemicals that disrupt the endocrine system
What are the common endocrinological issues in kids? 
Endocrine cancers
Hypospadias and Cryptorchidism
Precocious puberty
Diabetes
Obesity
Thyroid disorders 
Why do kids suffer from endocrinological disorders?
A few challenges with the endocrine system may create disruptions. Any hormone in excess may complicate paediatric health. Similarly, lack of secretion of a hormone or its scarcity may be harmful to the body. One of the examples may be taller kids owing to the excess of the growth hormone. The lack of growth hormone may disrupt the natural height of kids.
What are the main constituents of the human endocrine system?
The glands that constitute the human endocrine system are:
Reproductive glands
Adrenals
Pineal body
Parathyroids
Thyroid
Hypothalamus
Pituitary
Despite being a part of the digestive system, the pancreas is also a part of the endocrine system. The pancreas secretes and produces digestive enzymes. Endocrine glands are those that generate hormones. Pancreas, liver, thymus, lungs, heart, brain and skin, placenta and kidneys are also the organs that release hormones. 
Endocrinological disorders and kids:
Hyperthyroidism involves excessively high levels of thyroid hormones in the blood. There are various symptoms of hyperthyroidism.
What are the symptoms of hyperthyroidism?
A. Weight loss
B. Protrusive eyes
C. Swollen neck with an enlarged thyroid gland (goitre)
D. Excessive perspiration
E. Increase in the heart rate
F. Blood pressure or hypertension
G. Tremors
H. Nervousness
Hypothyroidism involves abnormally low levels of thyroid hormones in the blood. The deficiency of thyroid hormone may slow the body processes. There are various symptoms of hypothyroidism.
The symptoms of hypothyroidism may include:
A. slow heart rate
B. Dry skin
C. Fatigue
D. Delay in the puberty
E. Slow growth
Hashimoto's thyroiditis is one of the autoimmune conditions children may suffer. It involves an autoimmune response from the immune system, which ends up blocking thyroid production. 
Endemic cretinism involves the onset of hypothyroidism during conception. The cause of endemic cretinism is dietary iodine deficiency hindering the normal thyroid hormones. There are various symptoms of endemic cretinism.
The symptoms of endemic cretinism may include:
A. Spastic Dysplasia
B. Problems with Gross Motor Skills and Fine Motor Skills. These problems stem from damage to both pyramidal and extrapyramidal systems.
Diabetes is a severe condition involving abnormal elevation of blood glucose. Inadequate insulin production is the primary cause of diabetes. It may lead to serious health concerns, including premature death.
It is already affecting over 220 million people worldwide. Low-income countries and middle-income countries are in the clutches of this illness, with over 80% of deaths linked to these countries.
What are the types of diabetes?
Type-1 diabetes
Type-2 diabetes
Type-1 diabetes was previously called insulin-dependent diabetes mellitus (DDM) or juvenile-onset diabetes. Type 1 diabetes stems from an autoimmune process destroying the pancreatic islets. The condition mainly affects kids and youngsters. The main risk factors for diabetes mellitus type 1 may be hereditary, autoimmune or environmental. There are various symptoms of type-1 diabetes.
The symptoms of diabetes mellitus type-1 include:
A. Excessive thirst
B. Abnormal hunger
C. Weight loss
D. Excessive urination
Are there any risk factors linked to type-1 diabetes? 
There are various chemicals or drugs which may trigger diabetes.
They may include:
A. Alloxan
B. Streptozotocin
C. Pentamidine
D. Rodenticides
These are the risk factors that may trigger an autoimmune response. The response may end up destroying the pancreatic islets. 
Type 2 diabetes is often called non-insulin-dependent diabetes mellitus or adult-onset diabetes. 
Type 2 diabetes affects over 90% of diabetics worldwide. The risk factors for type 2 diabetes are obesity and deskbound lifestyle or inactive lifestyle. 
The symptoms of diabetes mellitus type 2 are similar to that of type 1 diabetes. The symptoms of type 2 diabetes remain latent for years to decades. Therefore, the diagnosis may occur later in life. Most patients report that they discovered their diabetes after the complications arose. The prevalence of diabetes mellitus is leading to obesity in children worldwide. 
Are there any risk factors for diabetes mellitus type 2?
Old age
Family history 
History of gestational diabetes
Impairment in the glucose metabolism
Deskbound or sedentary lifestyle
Obesity or being overweight 
Hypospadias is one of the common birth defects. Hypospadias may affect 1 in 250 newborns. The number has recently doubled. The cause of Hypospadias remains unknown. Some studies correlate it with maternal exposure to endocrine disruptors. 
Are there any risk factors for Hypospadias and Cryptorchidism?
Preterm birth may lead to Cryptorchidism. Small gestational age and paternal smoking may lead to hypospadias. Paternal pesticide exposure may be one of the risk factors for Cryptorchidism.
Are there any ways to cope with these problems?
Positive changes in the environment and maintaining an ideal weight are two essential parts of a healthy lifestyle. Youngsters should develop healthy food habits. Parents should encourage their children to eat more organic foods. Children may prefer regular exercise and reduce sedentary lifestyle. Curbing the global problem of obesity requires us to opt for a multidisciplinary approach. 
Dr Venkatachalapathy, an expert paediatric surgeon in Hebbal, affirms that it's necessary to abide by the doctor's guidance. A paediatric surgery may help diagnose, treat, and manage the surgical needs of kids. Finding a good paediatric surgeon in Bangalore is subject to a general knowledge of endocrinology.