Food For A Healthy Mind & Pregnancy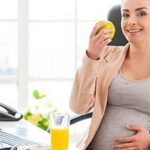 Food For A Healthy Mind & Pregnancy

Every day, pregnant and nursing women have to make important dietary decisions by consuming healthy meals that include essential nutrients such as folic acid, calcium and pre-natal vitamins. Omega-3 fatty acids, which are long-chain polyunsaturated essential fatty acids, are also crucial for the mother's health and also for the overall development of a healthy baby.
Research indicates that one of the most essential Omega-3 fatty acids is DHA (docosahexaenoic acid), which is critical for the development and functioning of the brain, the eyes and the central nervous system. Since Omega-3 fatty acids are not generated by the human body, pregnant and lactating women must obtain it either through diet or supplements. Babies rely on their mothers to get the much-needed DHA.
The Benefits
The European Food Safety Authority Scientific Panel recommends that pregnant and nursing women should consume 350 to 450 mg of DHA every day. Research suggests that DHA helps pregnant women by reducing the risk of pre-term birth and postpartum depression. According to a recent study in The American Journal of Clinical Nutrition, taking DHA helps optimal pregnancy outcomes. By ingesting supplements during the last half of pregnancy, women have longer gestation cycles, bigger babies, and fewer preterm births.
DHA also benefits the baby. Research shows that it results in an increase in brain weight and a child's IQ, better hand-eye coordination. Babies get DHA from breastmilk, where it is found naturally. Infant formulas are now being supplemented with DHA.
Research indicates that preterm infants born without the benefit of DHA in last trimester of the pregnancy did not perform well on cognitive mental tests. Low levels of DHA in children have been linked to an increased risk of Attention Deficit Hyperactivity Disorder (ADHD), vision problems and depression.
In India, there is a low level of importance given to DHA during pregnancy and lactation. DHA intake in India among pregnant women is 10 times lesser than the intake among mothers in developed countries.
There are different dietary sources of DHA such as:
Algae: Certain microalgae are natural sources of DHA. A natural vegetarian source of DHA can now be produced from microalgae, and is currently available in dietary supplements, fortified foods, and a number of infant formulas.
Fatty fishes such as anchovies, salmon, herring, mackerel, tuna and halibut
Organ meat such as liver
Fish oil
Poultry and egg yolks
Breast milk
Of the above, significant amounts of DHA are found in animal organs and fatty fish, which is a challenge for Indias huge vegetarian population. Non-vegetarians have the highest DHA levels. Not only that, pregnant women are usually advised to limit consumption of fish due to concerns over toxins such as mercury.
A common misconception that many have come across is the use of flaxseed and walnuts in the belief that these foods are a rich source of DHA. That is not true. Flaxseeds and flaxseed oil contain a particular omega-3 fat called ALA (alpha-linolenic acid), a precursor of DHA. While the body can convert small amounts of ALA into DHA, it is not sufficient. According to World Health Organisation, marine oil supplements are often recommended to pregnant women to fulfil their Omega-3 requirements as they contain fatty acids DHA and EPA, which are the precursors of prostaglandins. Marine oils are usually promoted as a treatment for hypertension among pregnant women and non-pregnant adults.
Stay update don our latest packages, offer, news, new launches, and more. Enter your email to subscribe to our news letter
SUBSCRIBE
TO OUR NEWS LETTER