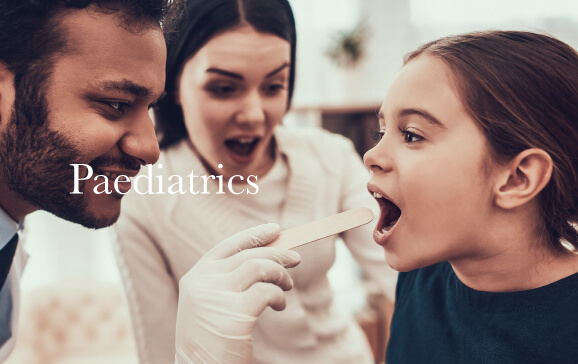 The Department of Paediatrics at Motherhood consists of a team of paediatric specialists that cater to all the needs of children, across age groups, and provide the best care for your child's development. Our team of qualified and committed paediatricians are trained to tackle any and all contingencies – from basic check-ups and vaccinations to emergencies and surgical care.
Paediatric Treatments and Procedures
Immunisation
Asthma Management
Developmental Screenings
Hearing and Vision Screenings
Sports Physicals
Treatment of minor illnesses and injuries
Weight Management
Well-Child Exams
Neurology
Asthma / Pulmonology
Diabetes / Endocrinology
Dermatology
Audiology
Digestive Care / Gastroenterology
Infectious Diseases
Ear / Nose / Throat
Plastic surgery
Nephrology
Heart care
Orthopaedics and sports medicine
Rheumatology surgery
Ophthalmology
Rehabilitation
We boast of vastly experienced team of paediatricians and nurses, not to mention our state-of-the-art facilities. You may rest assured that your little one is in safe hands at Motherhood.
Paediatric Ultrasound
The state-of-art ultrasound and scanning equipment available at Motherhood Hospitals help to produce a clear picture of the internal organs and blood vessels within the abdomen of a child. At Motherhood Hospitals, Paediatric Ultrasound is performed with the best sonography equipment currently available.
A pediatric ultrasound is an examination of the child's abdomen with the help of an ultrasound machine. The procedure involves an ultrasound gel and a small probe (transducer) that uses sound waves to produce an image. It is a non-invasive medical examination that helps our experts diagnose and treats abdominal pain and investigate other useful information about other organs such as liver and kidneys.
At Motherhood Hospitals, the Paediatric Ultrasound can be performed to examine the patient's.
Uterus
Bladder
Pancreas
Liver
Appendix
Kidneys
Ovaries
Stomach/pylorus
Testicles
Intestines
Spleen
Gallbladder
These ultrasound images are essential to diagnose appendicitis in children. The doctors at Motherhood can also perform a paediatric ultrasound to:
Determine the causes of vomiting in young infants
Detect the cause and the presence of an apparently enlarged abdominal organ
Guide other procedures including biopsies
Identify the location of abnormal fluid in the abdomen
How should you prepare for an ultrasound exam?
To prepare for the procedure, your child is not allowed to eat and drink for at least 3 hours (for younger children) or 10 hours (for older children) before the procedure. Your child needs to wear a loose-fitting, comfortable dress during the whole process. Depending on the type of ultrasound, the assigned doctor may discuss the other details with you.
During the examination, your child needs to lie down on the back on a test table. The sonographer or radiologist at Motherhood Hospitals will spread a clear, water-based gel on the skin. Then, they press and move the probe back and forth to produce the desired image. Once the imaging is complete, the gel will be wiped off your child's skin.
Why Choose Motherhood for Paediatric Ultrasound?
Motherhood Hospitals is one of the best hospitals in India for a pediatric ultrasound. We offer the spectrum of paediatric imaging services performed with ultrasound. Our team of imaging specialists includes paediatric radiologists, who work with the diagnostic team, along with a paediatric specialist, to offer the best possible care to your child.