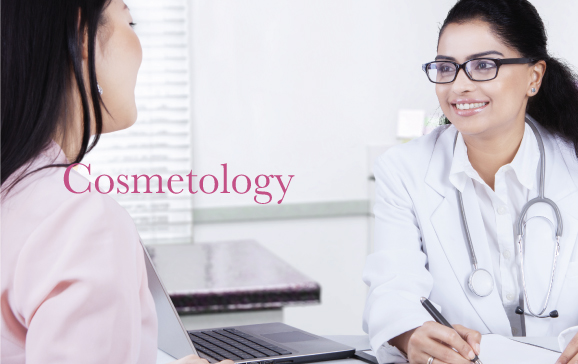 Your image is important to your self-confidence, and your skin is the most visible sign of vibrant health. Motherhood Hospitals boasts of senior and qualified professionals and the most advanced technology and techniques in a comfortable, modern setting. We believe that you should invest in your skin – as it is going to represent you for a long time.
Our Facial Aesthetics Services include:
Face Lift – Also known as a rhytidectomy, it is a cosmetic surgery used to restore a more youthful appearance to the face and neck. This surgery is often used when less invasive office procedures, such as cosmetic injections, fail to deliver adequate results. Facelifts can remove deep lines, creases and sagging on the face. They can also be used to restore the youthful volume of the face and improve underlying muscle tone that contributes to the formation of jowls. Though facelift procedures cannot stop the ageing process, they can take many years off the face – especially when paired with brow lifts or eyelid surgery.
Nose Surgery (Rhinoplasty) – Rhinoplasty is a surgical procedure that is aimed at changing the physical structure, appearance, and function of the nose. Depending on the desires of a patient, the size and shape of the nose can be increased or decreased. The shape of the tip can also be altered, as well as the width of the nostrils. Other alterations, such as changing the angle between the nose and the upper lip, are also possible. While it can be used for cosmetic purposes, it can also be used to address birth defects, breathing problems, and nasal damage caused by previous injuries.
Ear Surgery (Otoplasty) – Otoplasty is a surgical process that reshapes the ear. A variety of techniques and approaches may be used to reshape congenital prominence in the ears or to restore damaged ears. Each individual seeking otoplasty is unique both in terms of the appearance of their ears and expectations for results following otoplasty surgery. It is important that you fully discuss your expectations with your plastic surgeon prior to the surgery.
Eyelid Surgery (Blepharoplasty) – Blepharoplasty is a surgical procedure to remove excess skin and muscle from both the upper and lower eyelids. Underlying fatty tissue that produces bagginess can be selectively removed or repositioned. Blepharoplasty can improve drooping skin and bagginess. It can help improve vision in older patients who have hooding of their upper eyelids. Although it can add an upper eyelid crease to the Asian eyelid, it will not erase evidence of one's racial or ethnic heritage. In some patients, who have looseness between the lower eyelid and the eyeball, consideration for tightening of the lower eyelid (canthoplasty/canthopexy) at the time of blepharoplasty may be recommended.
Lip Enhancement – Most people dream of having full, voluminous lips like those of celebrities and models. But genetics, ageing, and lifestyle factors like smoking can cause the lips to appear thin and diminutive. Lip augmentation is a solution for people who want to enhance narrow lips or otherwise rejuvenate lips that have become wrinkled with age. Patients have several options for lip augmentation, including injectable fillers, and synthetic implants. Fillers are injected into the lips and offer only temporary results. Implants, on the other hand, offer long-lasting results that can provide enhanced lip volume for several years or even a lifetime.
Brow/ Forehead Lift – A Brow Lift is a surgical procedure to improve visible signs of ageing in the forehead and eyebrow region. As individuals age, looseness in these regions may cause drooping of the eyebrows, eyelid hooding, forehead furrows, and frown lines. The Brow Lift procedure can improve the most visible signs of ageing. A Brow Lift can be performed alone or in conjunction with other procedures, such as a facelift, liposuction, eyelid surgery, or nasal surgery. Recent advances in Brow Lift surgery make it possible to perform the procedure through a variety of approaches, including endoscopy. Brow Lift surgery is individualised for each patient. The surgical incision used may vary with the technique selected by your surgeon to meet your needs.
Facial Implants –Facial implants are solid, biocompatible materials specially designed to enhance or augment the physical structure of your face. The precise type and size of implants that are best suited for you require an evaluation of your goals, the features you wish to correct, and your surgeon's judgment. While any area of your face can be augmented with implants, the cheekbones and the chin are the most common sites for facial implants. These can bring balance and better proportion to the structural appearance of the face and they can help define the face by increasing projection and creating more distinct features. Facial implant surgery is best performed in late adolescence. It may be performed alone, or as a complement to other facial contouring procedures such as nose or ear surgery.
Fat Grafting – A person's fat may be used to improve the appearance of the body by moving it from an area where it is less needed (usually the thighs or abdomen) to an area that has lost tissue volume due to ageing, trauma, surgery, birth defects, or other causes. Typically, the transferred fat results in an increase in the volume of the body site that is being treated. Since some of the fat that is transferred does not maintain its volume over time, your surgeon may inject more than is needed at the time to achieve the desired end result. Over a few weeks, the amount of transferred fat will decrease. Fat transfer procedures may be done using local anaesthesia, sedation, or general anaesthesia, depending on the extent of the procedure.
Dimple Creation – A natural dimple is usually found when there is a small defect in the cheek musculature. It is possible to surgically create permanent dimples and the surgical procedure is very simple and straight forward when done properly. There is usually a period of time after the dimple creation surgery where the dimple is present even when not smiling. This period is variable and can last anywhere from several days to several weeks and sometimes several months. As it heals, the dimple will slowly flatten and will only be present while smiling.
Neck/Double Chin Treatment – Sagging skin, excess fat, or the appearance of the neck cords can be corrected with neck lift surgery. The neck lift can create a clean and well-defined neck and jaw line. The results can improve the facial shape and balance. It can give an appearance of weight loss as well as a healthier and more youthful look. It is often performed in conjunction with a facelift but can be performed on its own. Kybella is the first and only FDA-approved injectable treatment to improve the appearance of moderate to severe fat beneath the chin (submental fullness) by physically destroying fat cells.