The Vital Role of Prenatal Nutrition: Nourishing Mother and Baby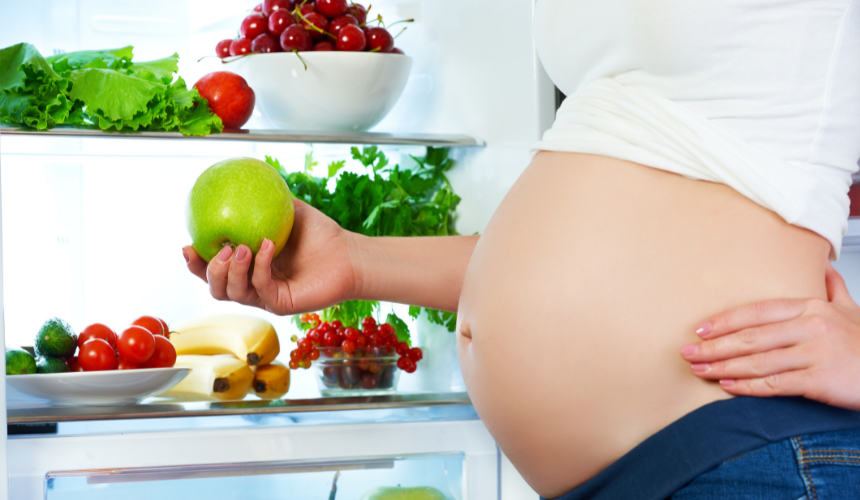 The Vital Role of Prenatal Nutrition: Nourishing Mother and Baby

Author: Dt. Manisha Choudhary B.Sc (Home Science), M.Sc (Dietetics) 
Consultant: Dietitian and Nutritionist at Motherhood Hospitals, Noida 
Hello, dear readers! I am Dietician Manisha Choudhary from Motherhood Hospital in Noida, and today I want to emphasize the significance of proper nutrition during pregnancy. Pregnancy is a transformative journey that brings immense joy, but it also comes with a responsibility to ensure the well-being of both the mother and the baby. One of the most crucial aspects of this responsibility is providing the right nutrition. Let's delve into why prenatal nutrition is essential for a healthy pregnancy. 
Optimal Growth and Development: 
During pregnancy, the growing baby relies entirely on the mother for nourishment. Proper nutrition ensures that the baby receives essential nutrients such as vitamins, minerals, proteins, and carbohydrates needed for optimal growth and development. These nutrients are the building blocks for the baby's organs, tissues, and overall health. 
Reduced Risk of Birth Defects: 
Folic acid, a B-vitamin found in foods like leafy greens and fortified cereals, plays a pivotal role in preventing neural tube defects in the baby's brain and spinal cord. Adequate prenatal nutrition that includes folic acid significantly reduces the risk of these birth defects. 
Healthy Weight Gain: 
Pregnancy is a time when weight gain is expected, but it should be a gradual and controlled process. Proper nutrition helps mothers maintain a healthy weight gain, reducing the risk of complications such as gestational diabetes and hypertension. It also contributes to an easier postpartum recovery. 
Strong Bones and Teeth: 
Calcium is essential for the development of the baby's bones and teeth. When mothers don't consume enough calcium-rich foods like dairy products, their bodies may draw calcium from their own bones, putting them at risk for osteoporosis later in life. Adequate prenatal nutrition ensures both the baby and the mother get the necessary calcium. 
Prevention of Anemia: 
Pregnancy increases the body's need for iron, as it is required to produce extra blood to support the growing baby. Iron-deficiency anemia during pregnancy can lead to fatigue, weakness, and complications for both the mother and the baby. A diet rich in iron sources like lean meats, beans, and fortified cereals can help prevent anemia. 
Enhanced Immunity: 
The immune system undergoes changes during pregnancy to protect both the mother and the developing fetus. Adequate nutrition, including vitamins like vitamin C and zinc, supports a healthy immune system. This can help the mother fend off illnesses and ensure the baby's safety. 
Reducing the Risk of Preterm Birth and Low Birth Weight: 
Proper nutrition can help reduce the risk of preterm birth and low birth weight. Inadequate nutrition may result in babies being born prematurely or with insufficient weight, increasing their vulnerability to health problems. 
Conclusion: 
In conclusion, proper prenatal nutrition is not only essential for the well-being of the baby but also crucial for the health of the mother during pregnancy and beyond. As a dietician at Motherhood Hospital in Noida, I urge all expecting mothers to prioritize their nutrition. Consult with a healthcare provider to create a personalized nutrition plan that meets your unique needs during this special journey. By nourishing your body and your baby with the right nutrients, you are taking a significant step toward a healthy and happy pregnancy. Remember, a well-fed mother is a healthy mother, and a healthy mother leads to a healthy baby. 
At Motherhood Hospitals, we have a team of experienced super specialists backed by the latest in infrastructure and facilities. We have the best Nutritionist at Noida who help customise diet plans for pregnant women and monitor their health throughout the period of pregnancy, in consultation with gynaecologists.
Do take an appointment with the best women care hospital in Noida at a centre closest to you. Meet with our doctors who will carry out the required investigations, diagnose the issue and recommend the most appropriate treatment, enabling you to lead an active life.
If you wish to get in touch with Dt. Manisha Choudhary, please book your appointment here.
Stay update don our latest packages, offer, news, new launches, and more. Enter your email to subscribe to our news letter
SUBSCRIBE
TO OUR NEWS LETTER