Types of Hysterectomy Procedure by Dr. Suhasini Inamdar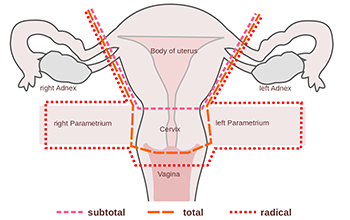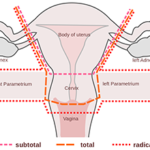 Types of Hysterectomy Procedure by Dr. Suhasini Inamdar

Hysterectomy is the removal of the uterus (baby bag) surgically. There are various methods and approaches:
1)Laparoscopic hysterectomy:
This is minimally invasive surgery, it is done through keyhole openings, approximately 4-5 in number, on the skin surface of the abdomen. These are 2-3 cms in size. The uterus is detached of all the attachments and it is delivered out through the vaginal route.
2)Abdominal hysterectomy:
Here a bikini cut is given on the abdomen and the uterus is detached of attachments and removed through the abdomen.
3)Vaginal hysterectomy:
This is a common approach when the uterus is descending and coming down in or out of the vagina, which is called prolapse of the uterus. This approach is also used for some cases of non-descend, where the uterus is not very big, and no other abdominopelvic pathology is detected.
The laparoscopic family planning procedure
Family planning is a method which helps the couple plan the number of children in the family. This can be temporary like ORAK CONTRACEPTIVE PILLS, CUT, CONDOMS, VAGINAL CONTRACEPTIVE SPONGES. The permanent method is tying of the Fallopian tubes in ladies and of VAS DEFERENCE in men. The best and minimally traumatic method of tying of fallopian is LAPAROSCOPIC TUBECTOMY It is a day-care procedure, the patient gets admitted on fasting stomach. It is done under general anesthesia. The patient is started on liquids by mouth and made to walk and use the washroom 6 hours after the procedure. The patient walks home same evening and comes for review after a week By
Dr.Suhasini Inamdar
Stay update don our latest packages, offer, news, new launches, and more. Enter your email to subscribe to our news letter
SUBSCRIBE
TO OUR NEWS LETTER