Understanding and Managing Common Childhood Illnesses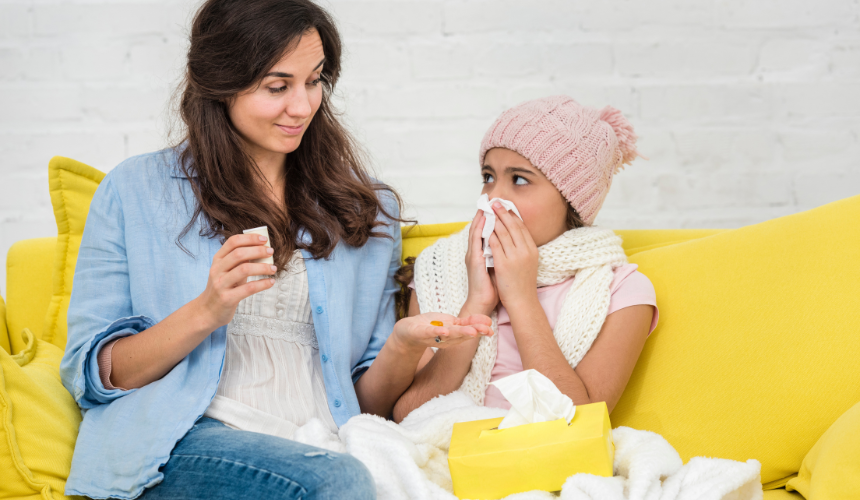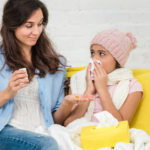 Understanding and Managing Common Childhood Illnesses

Author: Dr.Amit Gupta MBBS, MD, KGMC, PGPN
Consultant: Paediatrician & Neonatologist at Motherhood Hospital Noida
As a parent, it's natural to be concerned when your child falls ill. Common childhood illnesses are a part of growing up, and understanding them can help you provide the best care for your little one. In this blog, Dr. Amit Gupta from Motherhood Hospital Noida, sheds light on some of these common childhood illnesses and offers insights into their management.
1. Colds and Flu:
Common colds and flu are prevalent among children, especially during colder months. Dr. Gupta emphasizes the importance of good hygiene practices to prevent the spread of these illnesses. Frequent handwashing, covering the mouth when coughing or sneezing, and avoiding close contact with sick individuals are key preventive measures.
2. Fever:
Fever is often a sign that the body is fighting an infection. Dr. Gupta advises parents to monitor their child's temperature and provide adequate hydration. Over-the-counter fever reducers can be given under a doctor's guidance, but if the fever persists or is accompanied by other concerning symptoms, seeking medical attention is recommended.
3. Ear Infections:
Ear infections can cause discomfort and pain in children. Dr. Gupta suggests recognizing signs such as pulling at the ear, irritability, and fever. Timely medical evaluation is essential to determine the appropriate treatment, which may include antibiotics.
4. Stomach Bugs:
Gastrointestinal infections can lead to symptoms like vomiting and diarrhea. Dr. Gupta stresses the importance of fluid intake to prevent dehydration. Parents should consult a healthcare professional if symptoms are severe or if they notice blood in the stool.
5. Allergies:
Childhood allergies, whether related to food, pollen, or other allergens, can be managed with proper guidance. Dr. Gupta advises identifying triggers and avoiding them whenever possible. In severe cases, an allergy specialist might be consulted for accurate diagnosis and treatment.
6. Skin Conditions:
Skin issues like eczema and diaper rash are common in young children. Dr. Gupta recommends keeping the skin clean and well-moisturized. Avoiding harsh soaps and using hypoallergenic products can help manage these conditions.
7. Respiratory Infections:
Respiratory infections, such as bronchitis and pneumonia, can affect children. Dr. Gupta emphasizes the importance of timely medical attention, especially if the child has difficulty breathing or shows signs of distress.
8. Conjunctivitis (Pink Eye):
Conjunctivitis is highly contagious and can cause eye redness and discharge. Dr. Gupta advises avoiding touching the eyes and using separate towels and washcloths to prevent its spread. Consultation with a doctor can determine whether it's viral or bacterial conjunctivitis.
Dr. Amit Gupta underscores that while common childhood illnesses can be worrying for parents, most of these conditions are treatable and manageable. Regular visits to the pediatrician, maintaining a healthy lifestyle, and adopting preventive measures can significantly reduce the frequency and severity of these illnesses.
Remember, every child is unique, and if you're ever uncertain about your child's health, it's best to seek guidance from a medical professional. At Motherhood Hospital Noida, our team of experienced pediatricians is here to support you and your child's well-being every step of the way.
At Motherhood Hospitals, we have a team of experienced super specialists backed by the latest in infrastructure and facilities. We have the best Paediatricians in Noida that consists of a team of paediatric specialists that cater to all the needs of children, across age groups, and provide the best care for your child's development.
Do take an appointment with the best child care hospital in Noida at a centre closest to you. Meet with our doctors who will carry out the required investigations, diagnose the issue and recommend the most appropriate treatment, enabling you to lead an active life.
If you wish to get in touch with Dr. Amit Gupta, please book your appointment here.
Stay update don our latest packages, offer, news, new launches, and more. Enter your email to subscribe to our news letter
SUBSCRIBE
TO OUR NEWS LETTER