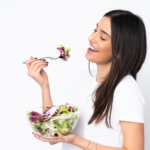 Author: Dr. Archana Dubey MBBS, MS (OBG)
Consultant: Gynecologist, Infertility and Laparoscopy at Motherhood Hospital Indore
Choosing healthy foods and drinks more often can help prevent or manage many health problems that affect women. Women have unique nutritional needs. By eating well at every stage of life, you can control cravings, manage your weight, boost your energy, and look and feel your best. A balanced eating pattern is a cornerstone of health. Women should enjoy a variety of healthful foods from all of the food groups, including whole grains, fruits, vegetables, healthy fats, low-fat or fat free dairy and lean protein. But women also have special nutrient needs, and, during each stage of a woman's life, these needs change.
Eating right

Nutrient-rich foods provide energy for women's busy lives and help to reduce the risk of disease. A healthy eating plan regularly includes: 
 At least three ounce equivalents of whole grains such as whole grain bread, wholewheat cereal flakes, whole-wheat pasta, bulgur, quinoa, brown rice or oats.
Three servings of low-fat or fat-free dairy products including milk, yoghurt or cheese; or calcium fortified soy milk. 
Five to five-and-a-half ounce-equivalents of protein foods such as lean meat, poultry, seafood, eggs, beans, lentils, tofu, nuts and seeds.
One-and-a-half to two cups of fresh fruits without added sugars.
Two to two-and-a-half cups of fresh colourful vegetables without added salt.
The nutritional needs of a woman 
The nutritional requirements for boys and girls as children are similar. But when puberty begins, women start to develop unique nutritional requirements. And as we age and our bodies go through more physical and hormonal changes, our nutritional needs continue to evolve, making it important that our diets evolve to meet these changing needs. To ensure you get all the nutrients you need from the food you eat, try to aim for a diet rich in fruit, vegetables, quality protein, healthy fats, and low in processed, fried, and sugary foods. 
Most health experts recommend that you eat a balanced, healthy diet to maintain or to lose weight. But exactly what is a healthy diet? 
Protein (found in fish, meat, poultry, dairy products, eggs, nuts, and beans) 
Fat (found in animal and dairy products, nuts, and oils)
Carbohydrates (found in fruits, vegetables, whole grains, and beans and other legumes)
Vitamins (such as vitamins A, B, C, D, E, and K)
Minerals (such as calcium, potassium, and iron)
Water (both in what you drink, and what's naturally in foods) 
Balancing calories with activity
Since women typically have less muscle, more body fat and are smaller than men, they need fewer calories to maintain a healthy body weight and activity level. Women who are more physically active may require more calories. Physical activity is an important part of a woman's health. Regular physical activity helps with muscle strength, balance, flexibility and stress management.
At Motherhood Hospitals we have a team of experienced supers specialists backed by the latest infrastructure and facilities. We have the best nutritionists in Banashankari, Bangalore. We are experts in handling complex deliveries, gynaecological, and other surgeries, including various laparoscopic surgeries. 
 Do make an appointment with the best woman care hospital in Banashankari, Bangalore at a centre closest to you. Meet with our doctors, who will carry out the required investigations, diagnose the issue and recommend the most appropriate treatment, enabling you to lead an active life. 
If you wish to get in touch with Dt. Divya Gopal, please book your appointment here.
Stay update don our latest packages, offer, news, new launches, and more. Enter your email to subscribe to our news letter
SUBSCRIBE
TO OUR NEWS LETTER