How can OB/GYN help with your family planning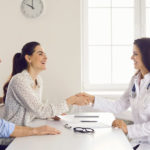 How can OB/GYN help with your family planning

Author - Motherhood Medical Team
You may want to plan the size of your family ahead along while also thinking about a feasible space between children. This is referred to as family planning where a gynaecologist or an obstetrician (OB/GYN) can help you to preset a family plan that is suitable for you.
Quick Fact: As per WHO, 1.1 billion women among 1.9 billion reproductive women have a need for family planning.
Family Planning
You can plan the coming of your children along with controlling their number. Besides, you can keep a space between the children as well while planning with an obstetrician or gynaecologist who can help you with the rightful decisions. Planning for pregnancy
You can begin the course of planning by starting to draft a healthy plan for pregnancy with your OB/GYN. The guidelines can comprise of making the required lifestyle changes that can increase the chances of conception along with having a healthy pregnancy. You may be suggested:
To take prenatal vitamins
Consuming nutrient rich diet
Stopping smoking and drinking
Exercises and overview of medications you take
Besides, there are women who wish to conceive soon after their first child, and some prefer keeping space between the two children. While this can be a matter of safety, your OB/GYN can suggest you the right choice as per your health condition.
Preventing Pregnancy
You may want to prevent your pregnancy temporarily in case your family is complete or you don't want children for then. There are some birth control measures where OB/GYN can guide you towards determining the right type for you. Following are some ways by which you can control the birth:
Birth control pills
Intra Uterine devices
Vaginal rings
Hormonal birth control patches
Birth control shots
Birth control decision is a personal decision where your healthcare professional can help in you in following effective ways.
At Motherhood Hospitals, we have a team of experienced super specialists backed by the latest in infrastructure and facilities. We have the best Gynaecologist who are experts in handling complex deliveries, gynaecological needs, and other surgeries including a range of laparoscopic surgeries.
Do take an appointment with the best delivery hospital at a centre closest to you. Meet with our doctors who will carry out the required investigations, diagnose the issue and recommend the most appropriate treatment, enabling you to lead an active life.
If you wish to get in touch with our doctors, please book your appointment here.
Stay update don our latest packages, offer, news, new launches, and more. Enter your email to subscribe to our news letter
SUBSCRIBE
TO OUR NEWS LETTER