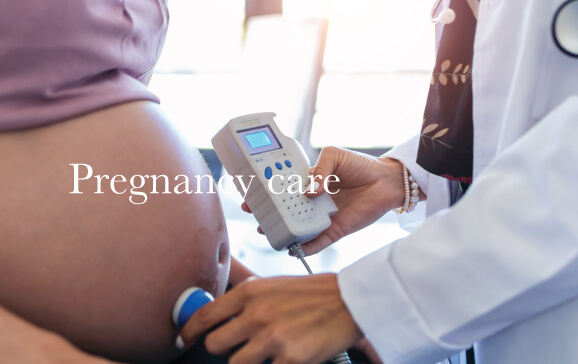 Ectopic Pregnancy
When a fertilised egg implants and grows outside the main cavity of the uterus it is termed as Ectopic Pregnancy. It often occurs in fallopian tubes, which carries the egg from the ovaries to the uterus. This type of ectopic pregnancy is called a tubal pregnancy.
An ectopic pregnancy can't proceed normally as the fertilized egg can't survive, and the growing tissue may cause life-threatening bleeding if left untreated.
What are the causes of Ectopic Pregnancy?
An ectopic pregnancy occurs when a fertilised egg gets stuck on its way to the uterus because of the damaged fallopian tube due to inflammation.
Its risk factors include:
Previous ectopic pregnancy

Inflammation or infection

Fertility treatments

Tubal surgery

Choice of birth control

Smoking
Complications:
An ectopic pregnancy can cause fallopian tube to burst open which can lead to life-threatening bleeding.
What are the symptoms of Ectopic Pregnancy?
Early symptoms of Ectopic pregnancy are:
Pelvic pain

Light vaginal bleeding
You may feel increasing abdominal pain and urge to have a bowel movement if blood leaks from the fallopian tube. If heavy bleeding occurs, you may feel shoulder pain as blood fills your pelvis and abdomen.
Emergency symptoms:
Fallopian tube rupture

Heavy bleeding

Extreme light-headedness

Fainting

Severe abdominal pain
How is Ectopic Pregnancy diagnosed?
Pelvic exam: It helps the doctor to identify the areas of pain, tenderness or any mass in the fallopian tube or ovary.
To diagnose an ectopic pregnancy, the doctor will ask you for blood tests and an ultrasound. To confirm the pregnancy, the doctor will order the human chorionic gonadotropin blood test. This test may be repeated every few days until ultrasound testing can confirm an ectopic pregnancy.
Ultrasound: A trans-vaginal ultrasound allows the doctor to see the exact location of the pregnancy.
What is the treatment of Ectopic Pregnancy?
To prevent life-threatening complications, it is necessary to remove ectopic tissues. It can be done using the medication, laparoscopic surgery or abdominal surgery depending on your symptoms.
Medication: An early ectopic pregnancy is often treated with a medication which stops the cell growth and dissolves existing cells.
Laparoscopic procedure: In this procedure, a small incision is made in the abdomen to remove the ectopic pregnancy. The tube is either repaired or removed.
Emergency surgery: If you are experiencing heavy bleeding, you might need emergency surgery called laparotomy.
How can you prevent Ectopic Pregnancy?
You can't prevent ectopic pregnancy but there are some ways to decrease the risk:
Limit the number of sexual partners.

Always use protection during sex to help prevent sexually transmitted infections.

Don't smoke
Losing a pregnancy is devastating even if you have only known it for a short time. Give yourself time and talk about your feelings with close ones.
Why Motherhood?
Motherhood has one of the most extensive infrastructures with the latest equipment and a dedicated team of specialists to provide you with the best available treatment options. At Motherhood, we have the best OBG & IVF specialists, gynaecologists, and OBG surgeons well trained to provide quality health care to women across all sections of society.
Motherhood provides a vast array of medical services such as Maternity, Gynaecology, Paediatrics, Foetal Medicine, Neonatology, Cosmetology, fertility, Laparoscopy Surgeries, Endocrinology, 24/7 Laboratory Services, Dermatology, General surgery for Women, Radiology & Foetal Medicine, Physiotherapy & Lamaze, Physiotherapist, Dietician, MICU with 24/7 Intensives, and Breast Health.