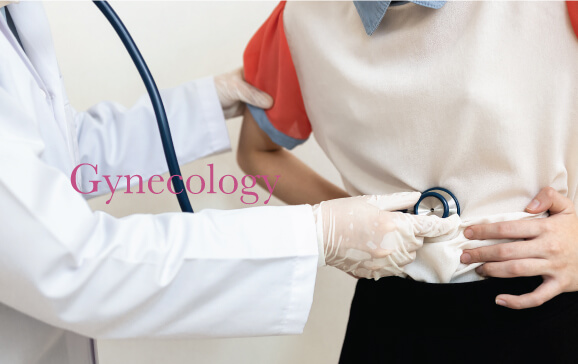 At Motherhood Hospitals, we offer you the entire spectrum of gynaecological services that a woman might need in her lifetime. We practice the latest treatments and medical procedures, and pride ourselves on our expertise in the field.
Our team of specialists is richly experienced, and carry behind them years of dedicated work. On a regular basis, they diagnose and treat pain/bleeding issues, uterine fibroids, urinary incontinence, abnormal pap smears, and help manage complications in conception and early pregnancy.
Our diagnoses are a product of deep deliberation, and experts across disciplines come together and share their respective insights. Thus, a Urogynaecology expert might find herself referring to a Reproductive Endocrinology expert, or a Gynaecologic Oncology specialist, thereby bringing their collective knowledge to the table. This means that you stand to gain the most comprehensive medical diagnosis possible.
Gynaecology
At Motherhood, the Department of Gynaecology focuses on the healthcare needs of women, all the way from adolescence to menopause, and later too.
We provide a safe and supportive space for women to seek medical care. We treat all gynaecological issues with the latest know-how, and advocate minimally invasive methodologies that rely on state-of-the-art technology.
Services and Procedures We Undertake
General Gynaecology
Minimally Invasive Gynaecologic Surgery
Pre-conception counseling
Uro-gynaecology
Preventive health check-ups
Fibroids
General Gynecology
Overview
We specialize in comprehensive care for women across their entire lifecycle. Whether it is the needs of a young girl moving into her puberty or a woman about to embrace motherhood or a middle-aged woman's in her post-menopausal phase, we address their needs with high quality treatment and specialized care. We also offer the best-in-class expertise for minimally invasive Gynaecological surgeries, aided by latest technology and protocols.
Why do you need to visit a Gynaecologist?
If you are facing any of the following symptoms, you must show yourself to a gynaecologist.
Irregular periods
Chronic pelvic pain
Painful intercourse
Bleeding during intercourse
Lumps or bumps in the vaginal region
Infertility or not able to conceive/not able to get pregnant
Irregular discharge
The above-mentioned symptoms may not seem very serious at a cursory look. However, they may be signs of a more severe underlying condition. Depending on the condition of the patient, the gynaecologist will offer a diagnosis, or suggest further procedures like an ultrasound scan, hysteroscopy, or a colposcopy.
Conditions commonly treated by gynaecologists:
Problems relating to pregnancy, fertility, menstruation, and menopause
STIs & STDs (Sexually Transmitted Infection & Sexually Transmitted Disease)
PCOS (Polycystic Ovary Syndrome)
PID (Pelvic Inflammatory Disease)
UTIs (Urinary Tract Infection)
Endometriosis and other chronic conditions
Urinary and foetal incontinence
Pelvic floor dysfunction
Pregnancy termination (lawful)
Benign and malignant tumours in the female reproductive organs
Pre-malignant conditions like endometrial hyperplasia, and cervical dysplasia
Congenital abnormalities (in the female reproductive tract)
Why choose Motherhood?
The team of experts at Motherhood boasts of years of experience in healthcare for women, as well as a diverse knowledge pool. Our gynaecologists take great pain to offer you deeply-deliberated diagnoses to your problems.
Our doctors are experienced in treating pain and bleeding issues, uterine fibroids, urinary incontinence, abnormal pap smears, and help in managing any complications in conception and early pregnancy, as well as during menopause.
Motherhood also has an early screening program that detects fibroids before they become more painful and complicated. We adopt minimally invasive techniques for treatment, the latest one being hytserolaparoscopy, which is extremely helpful in detecting abnormalities in the reproductive system.
All in all, we offer specialist care, supported by the latest trends in medical infrastructure and technology. If you have any queries, we are happy to respond to them.